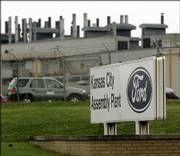 Detroit — Ford announced its largest production cuts in more than 20 years on Friday, blaming high gasoline prices for pushing many customers away from its pickups and SUVs and toward higher-mileage models.
Ford Motor Co. said it would temporarily halt production at 10 assembly plants - including the Kansas City Assembly Plant in Claycomo, Mo. - between now and the end of the year to reduce the need for costly incentives to trim bloated inventories.
The new production schedule also will result in temporary shutdown this year at assembly plants in St. Thomas, Ontario; Chicago; Wixom, Mich.; Louisville, Ky.; Wayne, Mich.; St. Paul, Minn.; Norfolk, Va.; and Dearborn, Mich.; Ford said.
Company officials would not say what specific effects the production cuts would have on workers. In general, hourly workers placed on temporary layoff receive 95 percent of their wages through state unemployment benefits and a supplement by Ford.
The production cuts are the second time this week that slower sales have forced Ford to announce changes. On Tuesday, the company said it would trim the number of dealerships it has in 18 metropolitan areas. Dealer profits declined an average of 10 percent in the first half of 2006, the company has said.
The latest decision illustrates just how out of step the lineup at the nation's second-largest automaker has become, as it loses market share to mostly Asian competitors under the watch of Bill Ford, chairman and chief executive.
Ford announced a turnaround plan in January that called for shedding 25,000 to 30,000 jobs and closing 14 plants by 2012. By year's end, the company was to have cut production capacity 15 percent.
Bill Ford said last month that the plan would be accelerated. He said Friday that the details would be revealed in September.
In response to the production cuts, Fitch Ratings downgraded Ford's debt further into junk status, while two other ratings agencies placed the company on review.
Copyright 2018 The Associated Press. All rights reserved. This material may not be published, broadcast, rewritten or redistributed. We strive to uphold our values for every story published.