Both in life and in death, Jeannie NewMoon was an enigma.
The 53-year-old Lawrence resident died this weekend after being struck by a train in North Lawrence. Railroad officials said it happened as she appeared to be trying to remove something from the train tracks.
Family members say they often worried about NewMoon because of her independent, rough-and-tumble life on Lawrence's streets, but they were shocked to hear she died the way she did.
NewMoon had struggles in life, they said, but she wasn't suicidal. She had heart troubles and had been at Lawrence Memorial Hospital last week, and her sisters said they wondered whether she was sedated or medicated at the time of her death.
"She had to have slow reflexes in order to not move away from the train," said Sunshine NewMoon, Jeannie's younger sister.
Sunshine NewMoon and another sister, Albertta, said they'd been told by police that a railroad employee saw NewMoon trying to remove a bicycle that was stuck on the tracks.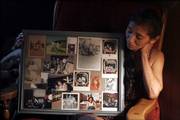 Jeannie NewMoon was, physically, a male, according to the Douglas County coroner and Kansas Department of Corrections records. But she identified herself as a woman and was known by all her friends and family as a female.
A member of the Ponca tribe of Oklahoma, NewMoon came to Lawrence in the early 1980s and attended Haskell Indian Nations University. She earned a two-year degree in electronics and attended Kansas University, where she learned to work with metal and make jewelry.
In recent years, she often stayed in an RV she had inherited from her mother and was well-known at the Lawrence Community Shelter, 214 W. 10th St. She collected Social Security disability payments - family members say they're not sure for what - and she liked to ride motorcycles and repair things. She also loved to dress in camouflage.
"She lived day by day. Whatever came up, she did," Albertta NewMoon said. "Her friends came by, she would leave with her friends."
A longtime friend, Angela Carmona, said that NewMoon never backed down from a fight.
"She was always trying to prove she was a warrior, when we all knew that she was," Carmona said.
She went to prison briefly in the early 1990s for aggravated battery after being convicted of striking a man with the hammer end of a roofing hatchet. Despite the tough exterior, friends and family said NewMoon had many loyal friends in Lawrence who would miss her.
"She's left a lot of strong memories that are important to people here," said Loring Henderson, director of the community shelter.
Albertta NewMoon said: "I think she cared about her friends more than herself."
NewMoon's sisters came to Kansas from Arizona to make arrangements for funeral services and to try to gather her belongings, including eagle and hawk feathers that have been in the family for generations.
NewMoon will be cremated and buried next to her mother on the Gila River reservation in Arizona.
Copyright 2018 The Lawrence Journal-World. All rights reserved. This material may not be published, broadcast, rewritten or redistributed. We strive to uphold our values for every story published.