Listen up! Tony Kornheiser had to be better than the short-lived sitcom loosely based on his life.
And he was. Much better. And that's even putting aside such a low standard as "Listen Up."
Kornheiser joined Mike Tirico and Joe Theismann in the booth for "Monday Night Football," which moved to ESPN this season after 31â2 decades on ABC.
Because of the ill-fated Dennis Miller Experiment a few years ago, many ears were cocked to wiseacre Kornheiser, who once wondered how Jackonville snagged the Super Bowl, asking: "What, Tuscaloosa was booked?"
As Monday night's debut approached, Kornheiser played the expectations game like a Beltway spin doctor in a way that would make James Carville and Mary Matalin proud.
He was so nervous that he perspired not just through his shirt, but through his suit, Kornheiser wrote Monday in his "Monday Night Diary" in The Washington Post. He worried that on live television "it's very possible that there'll be so much water pouring off my body that I'll short out the entire electrical system at the Metrodome."
Still, the low-expectations game continued through the show's opening. Tirico noted Kornheiser's 35 years as a writer, as well as his success on radio and ESPN's "Pardon the Interruption," adding: "And now you've made it to 'Monday Night Football.'"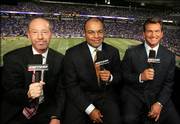 "I made it to it. Now will I make it through it?" Kornheiser responded as the other two laughed.
Both Theismann and Kornheiser quickly delved into the "ugly past" of the Minnesota Vikings, who were playing the Oakland Raiders, with Kornheiser pointedly talking about how the Vikings were "the most scandal-plagued team in the entire NFL last year."
"I won't go through the whole laundry list, but the sex-boat thing, that was a show-stopper. As they say on 'Seinfeld' - 'That's gold, Jerry. That's gold."'
(A reminder of what wasn't gold: Jason Alexander playing the fictionalized Kornheiser in that CBS series in 2004.)
Tirico sustained the broadcast's tradition of solid, straightforward play-by-play men, while Theismann sometimes sounded too empathetic with the players. He also can overstate the obvious. (And while we're at it, let's just trot out that Theismann once said: "Nobody in football should be called a genius. A genius is a guy like Norman Einstein.")
Theismann also came across as a little too self-serious, especially when he and Kornheiser clashed about how far removed from football new Raiders offensive coordinator Tom Walsh was. Walsh ran a bed and breakfast for seven years.
"Now I know you're going to say he stayed in football. But does that look like a guy who's staying in football?," Kornheiser said as bucolic photos with Walsh were flashed on the screen. "He's preparing menus and making beds. ... You comfortable with that, Joe?"
"Actually I am," Theismann said.
"Would you be comfortable if Bob Newhart were also hired? He ran a B&B;," Kornheiser said.
Copyright 2018 The Associated Press. All rights reserved. This material may not be published, broadcast, rewritten or redistributed. We strive to uphold our values for every story published.