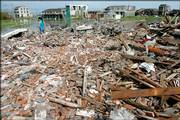 Beijing, China — The most powerful typhoon to hit China in a half century killed 105 people and left at least 190 missing Friday after it blacked out cities and smashed more than 50,000 houses in the southeast part of the country.
More than 1.6 million people were evacuated from the path of Typhoon Saomai before it struck late Thursday with winds gusting up to 170 mph, the official Xinhua News Agency said.
But it weakened to a tropical storm Friday morning, and by midday the Hong Kong Observatory said its winds had fallen, dropping it to tropical depression status.
Hardest-hit was Wenzhou, a coastal city where at least 81 people were killed and 11 were missing, Xinhua said.
On Wenzhou's outskirts, 43 bodies including those of eight children were found in the debris of collapsed houses, Xinhua said. News photos showed relatives weeping over bodies covered in sheets and quilts.
It said Wenzhou suffered $560 million in damage, including more than 18,000 flattened houses.
Torrential rains were forecast over the weekend in a swath of China's south stretching from coastal Zhejiang and Fujian inland to the poor rural provinces of Jiangxi and Anhui.
Much of that region still was recovering from Tropical Storm Bilis, which killed more than 600 people last month, many of them in mountain villages and other inland areas.
Saomai, the Vietnamese name for the planet Venus, was the eighth major storm to hit China during an unusually violent typhoon season. It killed at least two people in the Philippines and dumped rain on Japan, Taiwan and Hong Kong. Airlines canceled hundreds of flights.
Copyright 2017 The Associated Press. All rights reserved. This material may not be published, broadcast, rewritten or redistributed. We strive to uphold our values for every story published.