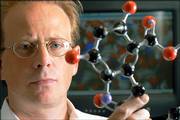 If research collaboration were marriage, Brian Blagg would have many spouses.
Blagg's research group is working with researchers on more than a half-dozen projects that one day may lead to new treatments for numerous diseases - from Parkinson's disease to breast cancer.
"Of course we'd all like to see something go into the clinic," said Blagg, assistant professor of medicinal chemistry at Kansas University's Lawrence campus. "At the same time we're learning so much about how these compounds work."
Blagg is one of more than 100 KU faculty whose research has some link to KU's cancer goals. KU is in the midst of a decadelong initiative to develop a federally designated comprehensive cancer center.
The designation, from the National Cancer Institute, would open KU to new funding and make cutting-edge treatments available to area patients.
It's a significant goal that will require about $331 million in new investment. But it's a goal that administrators say builds on KU's existing strengths.
Promising efforts
Currently 116 KU researchers have at least some work connected to cancer.
These efforts include Kathy Roby, research associate professor in the anatomy and cell biology department at KU Medical Center. Roby has developed Nanotax, a form of the cancer drug Taxol. Among its benefits, Nanotax has shown to have a lower toxicity, raising its ability to kill more cancer cells without harming as many healthy cells as Taxol.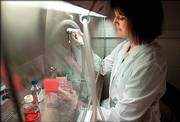 Then there is Kristi Neufeld, associate professor of molecular biosciences on the Lawrence campus. Neufeld is studying a tumor-suppresser protein important for understanding colorectal cancers.
And there is Blagg. While developing drugs to treat cancer, Blagg's team discovered a new subclass of molecules. The team found the molecules showed promise beyond the treatment of cancer, for the potential treatment of Alzheimer's and multiple sclerosis.
Blagg's team has partnered with several other researchers.
The team is working with Roger Rajewski and Michelle McIntosh at the Center for Drug Delivery Research at Higuchi Biosciences Center. Rajewski and McIntosh are exploring where the drugs accumulate in animals and researching the compound's effects on multiple sclerosis.
Blagg's team is collaborating with Mary Michaelis, professor of pharmacology and toxicology, to study how compounds developed in Blagg's lab affect Alzheimer's.
And there is collaborative research with several other labs to study how Blagg's compounds affect prostate cancer, Parkinson's disease, leukemia and breast cancer.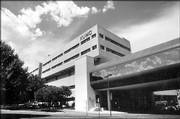 Advancing knowledge
Many of the marriages, Blagg said, were orchestrated by Scott Weir, director of KU Cancer Center's Office of Therapeutics, Discovery and Development.
Weir was promoted to the new position in March in part to bring researchers together on collaborative projects.
Blagg said he hoped some work would lead to the development of more drugs, but it's often difficult for academic researchers to compete with those in the pharmaceutical industry.
Short of drug development, the research findings are advancing knowledge, Blagg said.
"I think these studies that we're doing along the way are contributing to the overall development of drugs - nationwide, if not worldwide," he said.
Collaboration is key to KU's securing the cancer center designation, planners said.
"Really what a cancer center is all about is helping investigators get together and be able to do research that's only possible by all of these different disciplines coming together and working on the same problem," said Roy Jensen, director of the cancer center.
Two-step plan
But money also is key.
The initiative has been divided into two stages. The first step will be to work toward basic "cancer center" designation. It's distinguished from "comprehensive cancer center" designation in that cancer centers typically conduct only lab research and don't provide patient care.
That step will require $72 million in new investment, according to a recent business plan.
In this first step, called phase one, KU will need seven new senior and 10 new junior faculty. But those faculty will need staff support and facilities as well. The total cost is expected to be $274 million, but the majority of the funds already have been secured. Thus, the final total for new investment needed is $72 million.
The plan calls for the renovation of existing space and the construction of several new facilities, including:
¢ a 35,000-square-foot addition to the Structural Biology Center.
¢ a 100,000-square-foot multidisciplinary research building, currently referred to as MRB1. Estimated to cost $42.5 million and to be completed by 2011, the building would be on the Lawrence campus and house the assistant director for basic sciences. It would provide an integrated, team-oriented environment for cancer biology and oncology focused on medicinal chemistry.
¢ a 50,000-square-foot, $18.1 million clinical trials office at KU Medical Center. It is expected to be completed by 2012.
¢ a 255,000-square-foot, $90 million Cancer Research Center I building at KU Medical Center. Estimated to be complete by 2012, it would represent the major expansion of basic and translational research efforts.
KU Chancellor Robert Hemenway said he was pleased with the support the initiative had received thus far. The Legislature approved Gov. Kathleen Sebelius' proposal to dedicate $5 million annually to the initiative. Legislation introduced by Sen. Barbara Allen, R-Overland Park, created a state income checkoff for breast cancer research. The funds will go to the KU Cancer Center.
"I think the state Legislature has said to us: 'We buy into what you're doing here,'" Hemenway said.
Copyright 2018 The Lawrence Journal-World. All rights reserved. This material may not be published, broadcast, rewritten or redistributed. We strive to uphold our values for every story published.