Daunte Culpepper and Ben Roethlisberger, who entered training camp as question marks because of injuries, will start the exhibition openers for their teams.
Roethlisberger will start for Pittsburgh at Arizona on Saturday, two months to the day after the motorcycle accident that left him with a broken jaw, nose and other facial injuries. Culpepper, obtained by Miami in an offseason trade with Minnesota, will start for the Dolphins against Jacksonville on Saturday, less than 10 months after a serious knee injury ended his 2005 season.
Neither will play much.
Roethlisberger will play only a series or two and then give way to his backup, Charlie Batch. Most of the playing time is expected to go to the quarterbacks competing for Pittsburgh's No. 3 job, free agent Shane Boyd and 2006 fifth-round draft pick Omar Jacobs.
Roethlisberger has been lobbying Cowher to let him start since camp opened, but Cowher had not confirmed until Thursday that he would.
"I like the frame of mind he's in right now," Cowher said. "I'm not worried about Ben. It's more, I think, just getting our football team and making sure we're all on the same page and that we get back to where we need to be."
Culpepper will be followed by Joey Harrington, Detroit's former starter and another trade acquisition of the Dolphins. Then will come Cleo Lemon and Brock Berlin.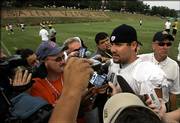 Broncos
Courtney Brown, whose career has been plagued by several injuries, will miss the entire exhibition season after undergoing arthroscopic surgery on his troublesome left knee.
Recovery is expected to take three to four weeks. Coach Mike Shanahan said Thursday he expects Brown to be back in the lineup for the Broncos' Sept. 10 regular-season opener at St. Louis.
The No. 1 overall pick in the 2000 draft by Cleveland, Brown had surgery on his right knee in 2001 and on his left knee in '02 and '04. He missed 33 games in his final four seasons in Cleveland.
He dislocated his left elbow during training camp with the Broncos last summer and sat out the regular-season opener against Miami. He finished with 38 tackles and two sacks in 14 games.
"Courtney has been here through all the offseason training days, and it is not like he missed camp. He had three weeks of good repetition," Denver coach Mike Shanahan said. "Obviously, with his experience, it makes us feel pretty good. But I do want him to get back into football shape."
Titans
Running back LenDale White got into a brawl Thursday morning with a teammate.
The rookie out of Southern California, who fell to the 45th pick in the draft overall in April, started clashing with the defense on a running play. He was walking back toward the huddle when he was bumped.
White walked back, and safety Donnie Nickey pushed back at the rookie with his helmet. A recording by a television cameraman picked up linebacker Keith Bulluck yelling that White had spit in Nickey's face.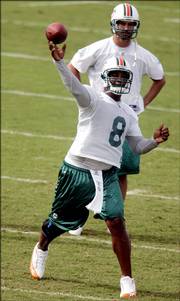 A few plays later, White couldn't catch an outlet pass from Matt Mauck when hit by rookie Cortland Finnegan and a brawl ensued.
White has been working behind Chris Brown and Travis Henry in the rotation at running back. He walked by reporters as he left the practice saying: "No comment, no comment, no comment."
Nickey, a three-year veteran out of Ohio State, also declined to comment.
Cowboys
Bill Parcells says there's a "good chance" Tony Romo will start at quarterback in the preseason opener against Seattle.
The move has nothing to do with starter Drew Bledsoe and everything to do with evaluating Romo, who is going into his fourth season without having thrown a pass in a regular-season game.
"I need to find out what this guy can do," Parcells said Thursday. "We'll get everybody in tune. It's not like Bledsoe, 34 years old, needs to play a quarter Saturday night to make sure that he's ready for the season."
Romo is entrenched at No. 2 behind Bledsoe, ahead of Drew Henson. The team has discussed signing Romo to a contract extension, further proof of their commitment to him despite not having seen him perform in games that count.
Panthers
Safety Mike Minter will be away from the team indefinitely after the death of his mother Thursday morning.
Minter left the team's training camp Tuesday night when his mother suddenly became ill at her home in Oklahoma. The cause of her death was not immediately available.
Coach John Fox would not confirm that Minter will miss Saturday's exhibition opener against Buffalo, but it is unlikely he'll rejoin the team by then.
"We're on his schedule right now," Fox said. "Our thoughts and prayers go out to him."
Copyright 2017 The Associated Press. All rights reserved. This material may not be published, broadcast, rewritten or redistributed. We strive to uphold our values for every story published.