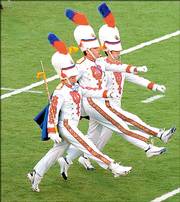 Kansas University's marching band is growing, and officials hope that will continue with the arrival of David Clemmer, new director of athletic bands and assistant band director.
"I'm very eager to get started," said Clemmer, 33, who arrived in Lawrence in mid-July.
Clemmer comes to KU from Sam Houston State University in Huntsville, Texas, where he held three titles: assistant professor, associate director of bands and director of athletic bands. He also was acting assistant director of summer music camps and the Sam Houston State Marching Contest.
Clemmer, who will earn $75,000, succeeds James Hudson, who left to take a position at Arizona State University.
John Lynch, KU director of bands, said Clemmer bested two other finalists for the position with his talent, experience, and audio and videotapes of his band performances that wowed interviewers.
"They were very exciting and just captivating," Lynch said. "We brought him in for a live interview, and he just hit a home run."
KU Marching Jayhawks' membership suffered dwindling numbers several years ago, declining to one of the smallest bands in the Big 12.
The band had about 125 members when Hudson took the reins in 2003, said Larry Mallett, chairman of KU's music and dance department.
But numbers have been on the upswing again.
The band had about 200 members last year. Lynch said the goal is to build the band to 300 members in the next three years.
"I think the potential is just tremendous," he said. "We have one of the strongest band programs in the country. We really want to be at the top."
KU is working to gather the funds to pay stipends for participating students.
Clemmer said that he would focus on supporting athletics.
"Win or lose, we are the ultimate fan," he said. "Our job is to always be there for them and to back them 100 percent, no matter what."
He also said he would focus on recruitment by expanding KU's recruitment database. Clemmer also has taught at the University of Texas-Arlington, the University of Oklahoma and several Texas high schools and middle schools.
He has a bachelor's degree from the University of Texas-Arlington and a master's degree from Oklahoma.
Copyright 2018 The Lawrence Journal-World. All rights reserved. This material may not be published, broadcast, rewritten or redistributed. We strive to uphold our values for every story published.