Kansas City, Mo. — One of the major leagues' finest pitchers sent researchers scrambling through the archives Thursday night trying to figure out if anybody had ever allowed so many extra-base hits.
The answer, to Curt Schilling's chagrin, was no. At least not in the American League.
Boston's six-time All-Star got cuffed around for a shocking 10 extra-base hits - nine doubles and a home run - as the Kansas City Royals rallied for a 5-4 win and a three-game sweep.
That ties the AL record set by Washington's Dale Gear in 1901 and equaled by Cleveland's Luis Tiant - while facing Boston - in 1969.
The major-league record is 16 by Buffalo's George Derby in 1883.
"I don't know if there's any in-depth explanation other than I didn't get the job done when I had to make the pitches," Schilling said. "I felt fine. I felt fine."
The victory gave the Royals, the worst team in the majors, a three-game sweep and sent the Red Sox to their fifth straight loss.
Boston limped back home on the heels of a 1-5 road trip to Tampa Bay and Kansas City, who have the two worst records in the AL.
The Royals celebrated their first three-game home sweep of the Red Sox in 15 years. Boston hadn't lost five in a row since 2004.
"I think I gave up 11 hits," Schilling said. "I didn't give up a single till the last hit of the game."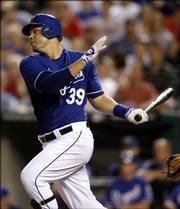 The Red Sox, who trailed the New York Yankees by three games going into the night, took a 4-2 lead into the eighth and Schilling quickly got the first out.
But then Mike Sweeney hit the Royals' seventh double, which was followed by Mark Teahen's hustle double that made it 4-3.
Boston Pitching coach Dave Wallace visited the mound, but Schilling stayed in and after Emil Brown walked, Reggie Sanders hit his third double of the night and it was tied at 4.
Then Ryan Shealy's infield single pushed across the go-ahead run.
"I thought I was going to catch it," Schilling said. "But I didn't, and it just fell in a perfect spot."
Even the normally light-hitting Royals, who are pace for their third 100-loss season in four years, were bemused.
"It's strange," said a grinning Teahen. "But when you're a team full of power hitters, that happens, he said with a smile."
Red Sox manager Terry Francona said he did not think Schilling tired in the eighth inning.
"We've backed ourselves into a little bit of a hole. Now we've got to find a way to get out of it," he said. "Curt felt felt strong. He was pitching good. I thought he was inspired when we took the lead. The whole dugout was."
Schilling (14-5) led 4-2 going into the eighth but failed to become the majors' first 15-game winner.
Andrew Sisco (1-2) got the win with one inning of relief. Ambiorix Burgos got his 18th save in 28 chances.
Copyright 2018 The Associated Press. All rights reserved. This material may not be published, broadcast, rewritten or redistributed. We strive to uphold our values for every story published.