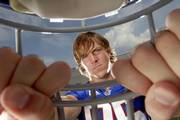 After the Kansas University football team selected Derek Fine as one of four team captains, it appeared his role in the offense would increase for 2006.
Fine caught only 22 passes last season. Five other Jayhawks topped that mark. KU's leading receivers last season - Mark Simmons and Charles Gordon - now play for pay.
Aside from senior wide receiver Brian Murph, Fine is the most experienced pass-catching option the Jayhawks have. Surely, he's due for more touches, right?
The junior tight end simply doesn't care about stats, though.
"May it be six catches or may it be 66 catches, whatever that might be, that's the role that I accept on my team and the position that I play," Fine said.
The Sallisaw, Okla., native will see the fifth Jayhawk quarterback under center in three years. Despite the quarterback carousel, Fine didn't hesitate when asked how much confidence he had in freshman quarterback Kerry Meier.
"One-hundred percent," Fine said. "That goes for running backs, receivers, the o-line. You have to have trust in everybody to make everything gel together."
Audio Clips
2006 Kansas football media day
Although Meier hasn't taken a snap at the collegiate level, he's already made a concerted effort to involve the 6-foot-3, 245-pound Fine in the offense. Most notably, the two connected on a 36-yard touchdown pass - the first score of the night - in the annual spring game in April.
Meier said the most notable characteristic Fine brought to the team was his attitude.
"He does not back down to anyone or anything," Meier said. "You can rely on him that he is going to give his 101 percent effort and he is going to bring it every play."
Meier said the two were also friends off the field.
"We love to hang out and just chat," Meier said. "You have to get away from football every once in a while, and me and Derek enjoy (getting) to hang out and live life."
-->
Aside from trust in his quarterback, Fine can finally rely on a capable backup. Kansas coach Mark Mangino said last season, Kansas didn't have a true tight end to back up Fine. This season, junior tight end Marc Jones has solidified that spot. Fine said he respected the style of play the 6-4, 241-pound Jones brought to the team.
"He's been improving every day in catching on to the offense," Fine said. "He pushes me a lot. He's really aggressive and a really intense player."
If Jones were to spell Fine during the season and notch some receptions, it would be a different scenario than last season. Fine was the only tight end who caught a pass for the Jayhawks in 2005.
Looking ahead to the season, the Big 12 preseason poll picked Kansas to finish fourth in the North. Fine said the Jayhawks' place in the Big 12 standings wasn't on the team's radar. He said he was more focused on getting through two-a-days.
"We're not even thinking about it," Fine said. "If wins come, wins come. That's just something that comes along with the season. We're just going out and working hard right now."
More from KU Football Media Day
Copyright 2017 The Lawrence Journal-World. All rights reserved. This material may not be published, broadcast, rewritten or redistributed. We strive to uphold our values for every story published.