Kansas University won't be evacuating the reviled Wescoe Hall anytime soon.
Initial reports from a study on whether the building is hazardous to people's health have revealed no significant problems, the lead investigator said Monday.
"I think it's a safe building, once they've got the airflow problem addressed," said John Neuberger, a professor in the KU School of Medicine's preventive medicine and public health department who is heading a study on the building.
KU officials called for a study of the building in June after hearing concerns about brain tumors being diagnosed among the building's occupants.
Air-quality tests were done in the first part of the study. Reports released Monday found that areas of the building have no airflow, and that levels of formaldehyde fall below Occupational Safety and Health Administration standards but slightly exceed the guidelines set by the National Institute for Occupational Safety and Health, a division of the Centers for Disease Control and Prevention. The levels will be checked again in upcoming weeks.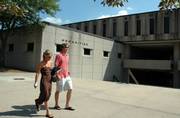 High formaldehyde levels can come from particle board or carpets, Neuberger said.
The report indicated zero airflow in some rooms in the building - a problem KU is addressing by keeping air dampers partially open at all times. That should cure the airflow problem, but it also likely will give rise to temperature problems.
Occupants may find one room too hot, another too cold and another just perfect - all in vicinity of one another, said Don Steeples, vice provost for scholarly support. Steeples said KU is working on a permanent fix.
Additional air-quality tests will be conducted in the upcoming weeks and months.
KU administrators on Monday met with faculty and staff who work inside Wescoe. The meeting was closed to the media.
"There were a lot of questions," Steeples said. "A lot of people are ... nervous - I guess that would be a good word."
Nathan Bremer, advising assistant in the department of Spanish and Portuguese, said he isn't worried.
"It certainly seems to me that there are a number of people who are anxious," he said. "The university is doing everything, from my point of view, that they ought to be doing."
Neuberger said an epidemiological survey will begin soon. The survey will include all who've worked in the building for at least a year over the course of the last decade. Some of those may be selected for a control study.
The results of the full analysis are expected to be complete in January.
Copyright 2018 The Lawrence Journal-World. All rights reserved. This material may not be published, broadcast, rewritten or redistributed. We strive to uphold our values for every story published.