Beijing, China — Hundreds of thousands of people were evacuated as Typhoon Prapiroon slammed into southern China on Thursday, pounding an already battered area with more heavy rains and winds.
The storm packed 75 mph winds as it made landfall over a stretch of coastal Guangdong province, according to the state meteorological bureau. There were no immediate reports of damage or injuries.
Authorities evacuated about 400,000 residents in low-lying areas of Guangdong, Guangxi and Hainan island, a popular tourist destination 370 miles southwest of Hong Kong, the official Xinhua News Agency said. Ferry and railway services linking Hainan to the mainland were also suspended.
State television showed raincoat-clad reporters braving downpours and wind gusts that bent trees and whipped up huge waves along Guangdong's coast.
Stormy weather was forecast through Saturday for several southern provinces. The storm was moving northwest at 9 mph to 12 mph, the meteorological bureau said.
Prapiroon, named after the Thai rain god, is the region's eighth major storm of the season.
The area has been recovering from Typhoon Kaemi, which killed at least 35 people and left dozens missing last week, and Tropical Storm Bilis, which sparked floods and landslides that killed more than 600 people last month.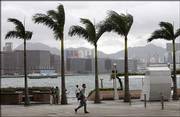 Prapiroon, which killed six people in the Philippines, is "as strong, if not stronger" than Bilis, said Gao Shuanzhu, a senior official at the China's national observatory, according to Xinhua.
More than 60,000 fishing boats and other vessels returned to port in Guangdong, Guangxi and Hainan provinces, official media said. Rescue teams throughout the area were alert for floods and landslides.
In Hong Kong, hundreds of flights were delayed, canceled or redirected, stranding more than 3,000 passengers.
A cargo vessel and barge ran aground on islands off the territory's coast, said Jack Chak, a spokesman for the Government Flying Service. Dozens of crew members were rescued, but there were no reports of injuries or deaths.
Philippine authorities said two people were also missing following lightning storms and flooding caused by Prapiroon, which struck the country as a tropical storm. About 15,000 people were evacuated as parts of the northern Philippines remained inundated.
Copyright 2018 The Associated Press. All rights reserved. This material may not be published, broadcast, rewritten or redistributed. We strive to uphold our values for every story published.