RIVER FALLS, WIS. — If he's destined to spend the rest of his career playing behind Larry Johnson, Michael Bennett says he's ready to shoulder the load.
Competing against Johnson still has to offer more opportunity than exists for a running back in New Orleans these days.
The Saints, who acquired Bennett as a free agent from Minnesota in March, wasted no time shipping him to the Chiefs this week after signing Heisman Trophy winner Reggie Bush to a contract estimated to be worth potentially $62 million over six years.
"Ever since they told me I was coming to Kansas City, there's been nothing but smiles across my face," Bennett said Thursday.
"There was some opportunity there in New Orleans. But when you take a guy like a Reggie Bush, a guy who can do everything, then the opportunities kind of become less."
The 5-9, 207-pound Bennett appeared in 64 games with Minnesota and had 3,174 yards on 713 carries. The six-year veteran was the Vikings' first-round pick in 2001 and had his best year in 2002 when he rushed for 1,296 yards and went to the Pro Bowl.
At 27, he insists he still has the speed that made him an All-Big Ten sprinter at the University of Wisconsin.
"I'm still running a 4.25," he said with a grin. "Don't disrespect my speed."
Nevertheless, the running back stable could be overly crowded in Kansas City. The Chiefs still are hopeful that three-time Pro Bowler Priest Holmes, who holds several team offensive records, will get clearance from doctors and come off the physically unable to perform list.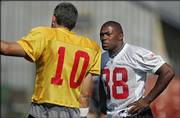 If he does, then he and Bennett will vie for the No. 2 spot behind Johnson, who set a team record with 1,750 yards rushing a year ago with a spectacular nine-game burst in place of the injured Holmes. Not once in those nine games did Johnson rush for less than 100 yards. Twice he went over 200.
"I'm going to come in here, and I'm going to do the best that I can," Bennett said. "And if that's going to be my role, I'm going to have to take that. I've been in this game going on six years. I've had a lot of success.
"My thing is basically come in here, learn this offense. I've got to learn a whole new offense. So it's kind of like being a rookie again."
His first action with Kansas City will come, oddly enough, against his old Minnesota teammates. The Chiefs and Vikings have a long scrimmage scheduled in Mankato, Minn., today.
The two also have a long history of brawl-marred get-togethers during camp. One such fight began with Bennett and Kansas City safety Greg Wesley.
"He grabbed my facemask and almost turned around my whole head, and that's what started everything," Bennett said. "But my last five years being in Minnesota, (the Chiefs-Vikings scrimmages) were always a fight. Hopefully we can go in and get some work done instead of fighting this time."
First-year head coach Herm Edwards planned to address that point.
"It would be a shame if you practice for two hours and 30 minutes but all they show on ESPN is the fight," Edwards said. "That's embarrassing for the league. It's embarrassing for the players. I don't anticipate that."
Practice fights are never to be condoned, he said - putting himself somewhat at odds with his predecessor in Kansas City, Dick Vermeil.
"If you fight in practice, you're going to fight in the game," Edwards said. "And if you fight in the game, two things are going to happen: You're going to get kicked out of the game, and it's going to cost you a lot of money."
Vikings defensive coordinator Mike Tomlin sounded the same warning.
"We're not naive," he said. "We realize that tempers run hot from time to time. But that has nothing to do with developing winning football, and that's why we're here. In no way do we condone those kinds of activities, and if they occur, they will be dealt with."
Copyright 2018 The Associated Press. All rights reserved. This material may not be published, broadcast, rewritten or redistributed. We strive to uphold our values for every story published.