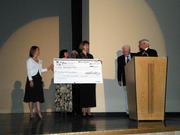 Jim Clark Motors continued its years of support for Cottonwood Inc. by giving the Lawrence operation its largest individual gift in memory: $50,000.
Loris "Junior" Brubeck, owner of the Lawrence auto dealership, formally presented the check Monday to Cottonwood leaders during the organization's annual Cottonwood Classies ceremony at Free State High School.
Cottonwood, which provides employment and other assistance for people with disabilities, also presented several awards during the ceremony:
¢ Lifetime Achievement Award: John Tacha, a foundation trustee, and Web Golden, Cottonwood's counsel and a longtime trustee.
¢ Community Partner Award: Annette Deghand, director of special populations for Lawrence Parks & Recreation.
¢ Caring and Commitment Award: Mike Taylor and LaFawn Yost, Cottonwood employees for more than 15 years.
¢ Outstanding Community Employer: Lawrence Humane Society and its director, Midge Grinstead.
Copyright 2018 The Lawrence Journal-World. All rights reserved. This material may not be published, broadcast, rewritten or redistributed. We strive to uphold our values for every story published.