Thanks to the decision by city voters to approve a $54 million school bond package in 2004, there's no disputing that construction is coming to the Lawrence High campus this summer.
However, when the focus shifts to how the work will impact the school's main East gymnasium during the 2006-07 school year, there's a jungle of confusion.
At the center of the tangle is whether the construction of a new tower to enhance the west entrance, as well as a locker-room remodeling project, will force the LHS boys and girls basketball teams to play their home games next year away from "The Jungle," one of the oldest, loudest and most intimidating venues in the Sunflower League.
While sports such as volleyball and wrestling will simply move to the smaller West gym, and gymnastics will move all its operations to Free State High and share equipment as well as head coach Kathy Johnson, the basketball teams are looking at a home schedule that may include dates at some of the city's four junior highs as well as Haskell Indian Nations University.
It's a possibility that doesn't sit well with some LHS players who say they've looked forward to playing their senior seasons inside the building and now face the possibility of having that memory taken away.
"At first I was shocked and I kind of actually didn't believe it," said junior Nathan Padia, a part-time starter last winter, about his reaction when he heard earlier this week that an off-campus home schedule was a possibility. "I knew they were remodeling, but I didn't think they'd take out a whole season.
"We have a great tradition, and I'll say it, we have the best home gym in the Sunflower League. I couldn't see myself playing anywhere else."
"I kind of feel like no one really cares about how we feel about it," added fellow junior Chance Riley, a starting guard who will be the Lions' leading returning scorer next season. "They didn't ask us what we wanted to do."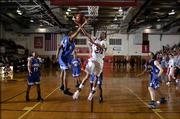 According to Riley, the genesis of the frustration came earlier this week when he approached LHS principal Steve Nilhas about the possibility of his summer basketball team using the East gym for practices. Riley said he was not only told that wasn't an option, but also informed the gym would be out of commission throughout the winter.
Nilhas admits the conversation happened, adding he was simply presenting the least-desirable option should the construction project indeed force the Lions out for the duration of the 2006-07 season.
"In the limited communication I've had with a few kids, the worst-case scenario has been that we'd have to move the whole thing," Nilhas said. "That probably wasn't the best approach.
"To be very blunt about it, we haven't communicated very well with our kids and parents on this, and that's our fault," added Nilhas. "Part of that is, we don't know what to communicate right now."
Part of the problem is timing. The construction bid was only recently awarded to B.A. Green Construction Co., and the Lawrence school board didn't vote to authorize inclusion of the tower and other aspects of the bid until its meeting Monday night.
Another hindrance is the number of entities involved in the projects, leading to confusion about just what will take place, where exactly it will happen and how long it will take.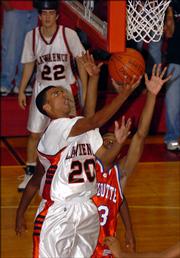 The overriding concern is the tower construction will block the west exit doors from the gym to the parking lot, creating a fire hazard should a large crowd be allowed to use the facility. In that scenario, the school still could use the gym for physical education classes and teams could still practice inside.
However, actual games - and the hundreds of spectators they draw - would be a no-no.
"We're going to abide by what the fire marshal tells us," said LHS athletic director Ron Commons. "I guess we could play the games and not have anybody come in and watch, but that doesn't make much sense."
While he doesn't want to see his team lose the distinct home-court advantage provided by the historic red-and-black-draped gym, LHS boys basketball coach Chris Davis understands the need for the project to go forward. And the sooner, the better.
"Obviously, we don't want to lose any home games. You never want to do that. At the same time, we have for a long time needed this work done around the gymnasium," Davis said.
"You'd like it to be done at a time when the gym isn't being used, but unfortunately in Lawrence, there's not enough gyms and the gyms are always being used."
Informed that many of the players he'll be counting on next season have started voicing concerns about what lies ahead, Davis added he'll willingly address those questions once a firm plan of action is on the table.
"When I find out what's going on and I'm given a schedule of events, absolutely we'll have a meeting and talk about it so everyone knows," Davis said.
Meanwhile, Nilhas stressed he'll do whatever he can to avoid the worst-case scenario he shared with Riley.
"I think that we'll make every effort to not have that happen, where we'll have as many home game as possible," Nilhas said. "We all want the same thing. We want to be able to play our home games in 'The Jungle.'"
Copyright 2018 The Lawrence Journal-World. All rights reserved. This material may not be published, broadcast, rewritten or redistributed. We strive to uphold our values for every story published.