Dallas — SMU officials Monday announced the hiring of new men's basketball coach Matt Doherty.
Doherty, who went 15-13 in his only season at Florida Atlantic, met with a search committee to get his hire approved, and was introduced at an early afternoon news conference.
"I want to build a program, not a team," Doherty said. "A team is a one-year deal. I want to put a system in place so we can be excited about it."
Doherty, a former Kansas University assistant under Roy Williams, replaces Jimmy Tubbs, who was fired earlier this month.
"He was our first choice," AD Steve Orsini said. "We had a great pool of candidates, and it says a lot about SMU."
Doherty was offered a yearly salary of $600,000 if certain incentives are met. He also demanded a commitment to a basketball practice facility and certain upgrades to aging Moody Coliseum.
Doherty's FAU team lost in the quarterfinals of the Atlantic Sun conference tournament.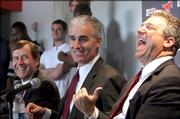 "I think he did a super job," FAU athletic director Craig Angelos said. "He left the program in much better shape than when he took over."
Doherty has a $200,000 buyout in his Florida Atlantic contract.
James Stafford and Malcolm Farmer, assistants under Doherty at Florida Atlantic, are coming to SMU with him. Former KU guard Rex Walters, Doherty's top assistant, is a candidate for the Florida Atlantic head-coaching job.
Doherty was a splash hire at Florida Atlantic after he spent two seasons away from the game working for ESPN and CSTV. He coached three seasons at North Carolina, going 26-7 in his first season. He was named Associated Press National Coach of the Year after that first year. He was forced to resign after a 53-43 mark.
Prior to UNC, Doherty, 44, spent one season at Notre Dame, where he went 22-15. SMU hasn't been to the NCAA Tournament since 1993 and last had an above .500 season in 2002-03.
Copyright 2018 The Lawrence Journal-World. All rights reserved. This material may not be published, broadcast, rewritten or redistributed. We strive to uphold our values for every story published.