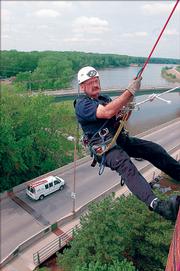 Firefighters and paramedics from Lawrence-Douglas County Fire & Medical spent the afternoon Monday jumping off the roof of City Hall.
The roof jumping was part of a training regimen for the men and women of Fire Station 1, where firefighters are required to know how to rappel down the side of a building to save a fire victim.
"We're all trained to a certain extent," Capt. Pat Karlin said.
Karlin has been at the station for five years and has participated in Monday's kind of intensive training several times, he said.
Karlin and the department consider the City Hall training a real life situation, where all of the elements are just as they would be in a real multistory rescue - minus the flames.
City Hall had all the right ingredients: the high building and the balconies situated on the north side that could hold a victim in need of rescue.
"We had access to it, and it had everything we needed," Karlin said.
To rappel down the side of a building, the fire and medical crew attached thick cords to the building's air conditioner, then ran the cords to a tripod fastened into place near the edge of the building.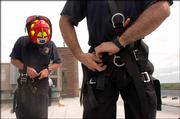 But every step was slow and methodical - all very intentionally, Karlin said.
These drills are meant to educate those who may not know the intricacies of every piece, every step in the rescue process.
So, one at a time, Karlin and the more experienced members of his team went over the braces, ropes and brackets they would have to set up in case of a real roof rescue.
Which doesn't happen that often, Karlin said. In his total 13 years on the force, including his five at Station 1, firefighters have had to rappel, at most, four times to rescue someone from the upper floors of a tall building.
"Hopefully, we never have to do it," he said.
Copyright 2018 The Lawrence Journal-World. All rights reserved. This material may not be published, broadcast, rewritten or redistributed. We strive to uphold our values for every story published.