New Orleans — Mayor Ray Nagin and Lt. Gov. Mitch Landrieu will compete in a runoff next month following Saturday's mayoral election, a tricky experiment of modern-day democracy that gave voters scattered by Hurricane Katrina a say in this city's future.
With 94 percent of precincts reporting in the nonpartisan primary, Nagin topped all candidates with 38 percent or 30,260 votes but fell short of the majority he would have needed to win a second term and avoid the May 20 runoff.
Landrieu had 28 percent, or 22,073 votes. Nonprofit executive Ron Forman followed with 17 percent, 13,334 votes, and 19 other candidates trailed far behind.
In his late-night speech at his election headquarters, the glib Nagin took a jab at his critics who had counted him out because of his missteps during the Katrina crisis and for an outspokenness some saw as divisive.
"There have been too many people who said we were dead, too many people who said we were way too divisive. There were too many people who said this city should go in a different direction. But the people have said they like the direction," Nagin said.
"We'll no longer be a city of haves and have-nots," he said. "This economic pie that is getting ready to explode before our eyes is going to be shared equally."
Landrieu, a white Democrat, struck a similar theme, saying his showing was testament to the unity the city needs after a storm that put all of New Orleans "literally in the same boat."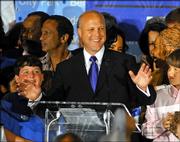 "Today in this great American city, African American and white, Hispanic and Vietnamese, almost in equal measure, came forward to propel this campaign forward and loudly proclaim that we in New Orleans will be one people. We will speak with one voice and we will have one future," he said, flanked by his father, Moon Landrieu, the last white mayor of New Orleans in the late 1970s.
Elections officials say the voting was steady and unusually problem-free, and while they didn't immediately have complete numbers, the returns appeared low, roughly a third of those eligible.
Of the city's 297,000 registered voters, tens of thousands are spread out across the United States. More than 20,000 cast ballots early by mail, fax or at satellite voting stations around the state, and thousands more made their way to 76 improvised polling stations. Some traveled by bus or in car caravans from such evacuee havens as Houston, Dallas and Atlanta.
The winner of the mayoral and city council races will face a host of politically sticky and racially charged decisions about where and what to rebuild in a city where whole neighborhoods remain uninhabitable.
Copyright 2018 The Associated Press. All rights reserved. This material may not be published, broadcast, rewritten or redistributed. We strive to uphold our values for every story published.