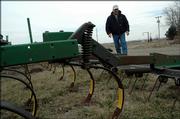 Patrick Ross didn't mind the warmer winter weather one bit.
Ross farms and ranches near northeast Lawrence, and the dry, relatively balmy winter of 2005-06 made it easier for him to do his work.
"It's been a pleasant one, except for those two little cold spells we had," Ross said in early March.
"About the only thing it could affect is the wheat. I really don't think it's hurt our wheat at all at this point - wheat's kind of a dry weather crop," he said. "We're in the cattle business, too. We've enjoyed the dry weather in the feed yard - if we're going to be dry, we'd rather do it during the winter months."
With spring about to begin, though, Ross was hoping that rain was on the horizon.
The relatively dry weather, if it continues, "could definitely make a difference" in the fortunes of area farmers, he said.
Area farmers knew it would be a mild winter. The National Oceanic and Atmospheric Administration predicted it back in October, to the relief of the Kansas agriculture industry. And January turned out to be the fourth-warmest on record in the Lawrence area.
"You don't have to cut as much wood" during a warm winter, Bill Wood, a Douglas County extension agent, said.
"There are some advantages in freezing and thawing for the soil," Wood said at the time. "We'd like to have at least one good cold snap to kill bugs and diseases so they don't carry over from year to year. ... Surely we'll get to zero somewhere."
There were a couple of cold snaps during the winter, Wood said more recently, but the warm weather provided advantages - many farmers were able to start fertilizing their ground earlier.
"Some years you can't do that because it's too wet, or the ground is frozen," he said. "The nice thing about the winter is that people with livestock and chores to do had it nice. When people are having baby sheep, 60 degrees is a lot nicer to deal with."
But Wood and Norman Leary - who also farms near Lawrence - also were worried about the dry weather. By early March, the area had received just 1.32 inches of rain, less than half the usual 2.78 inches by this time of year.
"Say about the 15th of February it's, OK, we could take some rain now," Wood said. "We've enjoyed the nice warm weather and the ability to get some stuff done, but it's time to get some water in the soil and the creeks and the ponds."
Leary, who is planting corn this spring, said the area wasn't in a drought - yet.
"We're not in a drought right here and right now, but it only takes two, three warm days with the wind blowing and we're dry again," he said. "We haven't had any real moisture since last fall."
Weather is just one more reason it's not always easy to be a farmer in Kansas.
"Interest has gone up, prices have gone down, and fuel's gone up," Leary said.
Somehow, though, he remains optimistic.
"It'll turn around," he said. "It always does."
Copyright 2018 The Lawrence Journal-World. All rights reserved. This material may not be published, broadcast, rewritten or redistributed. We strive to uphold our values for every story published.