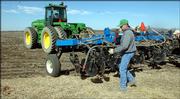 Put fuel prices next to the weather on the list of things that farmers worry over but can do little about.
"You just have to bite the bullet and hope for better times," says Mike Wintermantel, a corn and soybean farmer in Douglas County.
High costs of fuel, fertilizer and irrigation in other areas of Kansas are set to wallop farmers across the state this year.
"Because fuel is a variable input, when it goes up, it naturally takes away from the bottom line," says Jason Flory, another Douglas County farmer.
Last fall, when fuel prices skyrocketed after Hurricane Katrina, things looked pretty grim for farmers.
The picture has improved somewhat in recent months as fuel costs dropped from historic highs and crop prices inched upward, according to Kevin Dhuyvetter, professor of agricultural economics at Kansas State University.
However, Dhuyvetter says, "In northeast Kansas, corn and soybean markets are above their five-year average but not near enough to offset higher fuel and fertilizer costs."
Additional fuel costs will add to higher farmer costs, about $15 to $18 per acre, he says.
"It's just like you or I," says Bill Wood, Douglas County extension agent. "If we have to pay more for gas to drive to work it costs us more. And if we don't get a raise, it costs even more."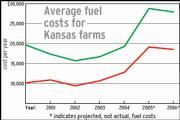 In Douglas County, farmers plant approximately 40,000 acres of soybeans, 25,000 acres of corn and between 7,000 and 9,000 acres of wheat.
The prices of diesel and natural gas hit record 10-year highs in 2005, and while having decreased, some remain historically high, according to a report by Dhuyvetter and Terry Kastens, also a Kansas State professor. Nitrogen fertilizer prices at a record 10-year high in February 2006.
Farmers like Flory and Wintermantel have taken actions to lessen their costs, such as switching to no-till farming. This reduces fuel use and cost by as much as one-fourth per acre, according to studies, and reduces soil erosion.
"If you have been thinking of no-till but have been reluctant to make the change - now might be the time to make the switch," Dhuyvetter says.
Dan Nagengast, a sustainable agriculture proponent in Douglas County, says reducing the impact of fuel costs would require major changes in the farming system over the long term.
He was among a group that included leading state agricultural officials to look at fuel costs. "We all kind of moaned about it. I think you need a big head to think of these things, and I don't see anyone smart enough to figure it out yet," he says.
Dhuyvetter says if the additional fuel costs hit consumers in the grocery, it wouldn't be for the farmers' benefit.
"If we start seeing higher prices, it's not because of fuel and energy for the farmer. It's more of fuel prices are higher from the farm gate forward, including the truckers and farm processors," he says.
Copyright 2018 The Lawrence Journal-World. All rights reserved. This material may not be published, broadcast, rewritten or redistributed. We strive to uphold our values for every story published.