When St. Margaret's Episcopal Church opened in 1997 at 5700 W. Sixth St., it was in the country.
Now, construction crews are busy for blocks surrounding the church.
"We were out on the very edges of civilization," said the Rev. Darrel Proffitt, the church's lead pastor. "But civilization has caught up with us."
With houses continuing to spring up in western Lawrence and with the city's boundaries continuing to move toward Topeka, several Lawrence churches are constructing new buildings or adding separate locations to serve the growing population.
St. Margaret's Episcopal Church is among those. It's adding a 9,200-square-foot multipurpose building adjacent to its current 10,000-square-foot facility.
The building, which was scheduled to open by Easter, includes additional worship space, youth meeting rooms, a kitchen and a full-size basketball court. The church raised $1.7 million for the project.
"This isn't our last building campaign," Proffitt said. "We anticipate we'll continue to grow. We're already praying about what the next step might be."
He said the population boom in western Lawrence had helped the church. But he attributes the church's success to its focus on being relevant to members' lives.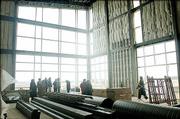 "The demographics don't hurt, certainly," he said. "But it would be easy to put a church out here and not have it grow."
More expansion
Another west Lawrence church looking to grow is Corpus Christi Catholic Church. The congregation hopes to add educational space for its school, plus a gymnasium, a commons area and an administrative building to its campus at 6001 Bob Billings Parkway.
The church has grown to about 1,100 member families, up from 300 in 1981, when it was founded.
The expansion, which is awaiting approval from the Kansas City Archdiocese, would allow the Lawrence Catholic School to begin offering seventh- and eighth-grade instruction, officials said.
Farther south, but still in the western part of town, Lawrence Free Methodist Church is planning to break ground soon on an addition to its site at 3001 Lawrence Ave.
The expansion, expected to cost between $1.2 million and $1.6 million, should be completed by September 2007. It will be a three-story building with 27,000 total square feet, nearly doubling the church's current space.
Most of the space will be used for ministries involving children, high school students and college students.
"It's an attempt to have a dynamic place for children and youth," said the Rev. Bill Bump, the church's senior pastor. "I think it will be one of the better children's facilities in the area when it's completed."
New sites
While some churches are looking to expand their facilities out west, others are looking to start locations there.
First United Methodist Church, 946 Vt., is adding a second location at 867 Highway 40, on the southwest corner of U.S. Highway 40 and the South Lawrence Trafficway.
The church's Celebration Center, which will open this summer, will sit on 47 acres that also will have a walking trail, pond, athletic field and amphitheater.
The building itself will be 15,500 square feet and will include a basketball court that doubles as a worship space and meeting rooms. In all, the project cost $4 million.
The Rev. David Livingston, associate pastor, said the church hoped the land and building would be a resource for athletic practices and other community meetings.
"This will be almost as much of a community center as a church," he said. "We view this whole thing as more than just a church building."
Livingston also said the buffer zone around the church would allow for green space in western Lawrence as development continues.
"When I first came here 2 1/2 years ago, driving out to our site felt like driving in the country," he said. "Now, it still feels like the edge of town, but it's part of the city."
The Lawrence Seventh-Day Adventist Church also is looking to build a new facility in west Lawrence, at the northwest corner of Stonecreek Drive and Branchwood Drive. It plans to move from its existing location at 1000 Conn.
The church has indicated in documents filed with the city that it intends to build a first phase of a building that will be 3,400 square feet, with another 10,500 square feet to be built in the future.
In February, the church requested an extension on filing a building plan until it could raise enough money for the project. Members of the church and their pastor did not return phone messages seeking comment for this story.
Another church new to Lawrence, Overland Park-based First Family Church, also is looking for a permanent home after meeting in several other locations since the fall.
"We are still looking for land or buildings we could renovate," said Jeremy Johnston, a pastor at the church. "However, there is nothing official planned as of yet."
Renovations instead
While some churches are making investments in western Lawrence, others are working to renovate their current locations in the heart of the city.
The most high-profile of those might be St. Luke AME Church, 900 N.Y., which wants to spend almost $2 million on renovations. Those include fixing the foundation and cracked brick walls.
The church is attempting to create a Langston Hughes Interpretive Center. Hughes, who went on to be a famous writer, attended church there in his childhood.
Two other downtown churches also are undergoing renovations. Plymouth Congregational Church, 925 Vt., has raised $780,000 for various improvements, including upgrading electrical infrastructure, repairing bricks, gutter and windows, and maintaining its pipe organ. The work is scheduled to start soon.
Trinity Episcopal Church, 1011 Vt., has raised $700,000 for its renovations, which include installing a new roof and heating and air-conditioning system and expanding the space for its kitchen, classrooms and food pantry. Some of the work has started.
"This isn't, 'Let's fix it for this year,'" said the Rev. Jonathon Jensen, the church's rector. "We're planning for the next 50 years."
Copyright 2017 The Lawrence Journal-World. All rights reserved. This material may not be published, broadcast, rewritten or redistributed. We strive to uphold our values for every story published.