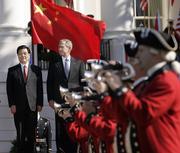 Washington — President Bush and Chinese President Hu Jintao pledged cooperation in reining in the nuclear ambitions of Iran and North Korea and resolving troubling trade disputes of their own Thursday, but they made little measurable headway in a pomp-filled summit that was infiltrated by a screaming protester.
In a half-day of talks, the watchwords were candor and discussion - not agreement and announcement.
The discussions touched on American concerns about Beijing's human rights record and the global energy effect of the communist giant's rapidly expanding economy, as well as China's sensitivity over the status of Taiwan.
White House officials stressed the growing sophistication of U.S.-Chinese relations, plus the increased personal familiarity between Bush and Hu after five meetings in less than a year, as the summit's biggest achievements.
"We have made progress in building a relationship that is candid and cooperative," Bush said.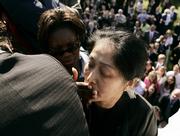 In opening remarks after a majestic arrival ceremony, Hu made clear he did not intend to do much more than reiterate past promises - and he did not. "I have come to enhance dialogues," said Hu from a sun-splashed South Lawn podium, speaking in Chinese that was translated.
Hu had barely begun his speech when a woman began pleading with Bush to stop the Chinese president from persecuting the Falun Gong, a banned religious movement that accuses the Chinese government of torturing and killing its followers.
Bush quietly encouraged his guest to resume talking - "You're OK," he said - as the woman's shouts continued even as Secret Service agents removed her. Hoping to defuse any tensions over the incident, Bush later opened the leaders' Oval Office meetings with a personal apology.
Copyright 2018 The Associated Press. All rights reserved. This material may not be published, broadcast, rewritten or redistributed. We strive to uphold our values for every story published.