LITTLETON, COLO. — Far from a nuisance, the calls that Dawn Anna gets every year on the anniversary of the Columbine massacre bring back warm memories.
"When you call you are remembering Lauren," Anna told a reporter.
Lauren Townsend, 18, was among the 12 students and one teacher killed seven years ago Thursday, when teen gunmen Eric Harris and Dylan Klebold attacked the school in the bloodiest such assault in the nation's history. She was valedictorian of her class.
"When you hit bottom you don't stay down there very long. Issues come that take you back. But we have chosen to remember Lauren's light and beauty," Anna said.
A fund in Lauren's name that gives scholarships and wildlife grants has raised $100,000.
Columbine High School was closed Thursday, as it has been on every anniversary, and the families of victims found their own ways to remember.
"We are going to take a hike in the great outdoors," Anna said.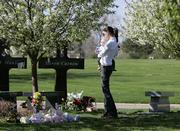 Joe Kechter, father of Matthew, and Don Fleming, father of Kelly, played golf before visiting the graves of their children, both 16 when they died.
"This year has been tougher than the last couple for me personally. You just never know," Kechter said. "Some years it is easier and some years it is a little harder."
"It is going OK. With time, some of the grief is alleviated. You are never over it," Fleming said.
For Brian Rorhbough, a persistent advocate for public disclosure of all investigative records of the shooting, it was a day like any other.
"We will spend a lot of the day thinking about (son) Dan, and later I am going to co-host a radio show about how the investigation was mishandled. The public has a right to know what happened," he said.
Rorhbough and the families of other victims say the Jefferson County sheriff's office ignored warnings Harris and Klebold planned violent acts. Then-Atty. Gen. John Salazar said that although some investigative files were missing, he found no evidence of negligence by investigators.
A lawsuit filed by victims against the parents of the teen killers was settled. The testimony the parents gave remains confidential.
Copyright 2018 The Associated Press. All rights reserved. This material may not be published, broadcast, rewritten or redistributed. We strive to uphold our values for every story published.