Baghdad, Iraq — A car bomb killed at least seven people on a busy avenue Saturday as Shiite politicians floated a proposal to end the standoff over a new government by having Prime Minister Ibrahim al-Jaafari step down - but only if his replacement comes from his own party.
The blast occurred at lunchtime outside an east Baghdad restaurant frequented by police officers, four of whom were among the 24 injured, Sgt. Sabah Mohsen said. All the dead were civilians, police said.
The explosion shattered windows and damaged shops. Firefighters hosed down the debris-littered street as bystanders gawked at charred and windowless vehicles.
Such violence is adding urgency to talks on forming a government of national unity, a task unsettled four months after parliamentary elections.
Negotiations have stalled over the refusal of Sunni Arab and Kurdish parties to accept al-Jaafari, the Shiite Muslim nominee to lead the new government.
U.S. officials have urged the factions to form a government quickly, seeing that as a vital step toward quelling sectarian violence that threatens to push Iraq into civil war. The U.S. military cannot begin sending its 133,000 soldiers home until the government is in place.
In a bid to break the deadlock, Shiite politicians not affiliated with major parties proposed that al-Jaafari step aside in favor of another candidate from his Dawa party, several Shiite officials said.
In return, the biggest Shiite party, the Supreme Council for the Islamic Revolution in Iraq, would not push Vice President Adil Abdul-Mahdi for the post, the officials said on condition of anonymity because the talks are at a sensitive stage.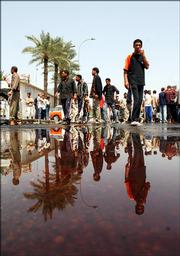 Al-Jaafari issued no public statement Saturday. On Friday, he told Britain's Channel 4 news that he would not give up the nomination because he was "the legitimate and democratic choice" of the Shiite alliance, a block of seven parties that hold 130 seats in the 275-member assembly.
However, two Shiite officials from separate parties said al-Jaafari had said privately that he would give up the nomination if asked to do so directly by the country's top Shiite cleric, Grand Ayatollah Ali al-Sistani. The officials agreed to discuss the matter only if they were not quoted by name.
Al-Sistani has privately urged Shiite leaders to resolve the dispute over the prime ministership so a new government can be formed quickly, according to the elderly cleric's aides. However, the aides also said al-Sistani did not want to take a high-profile role in the dispute.
The protracted bickering over al-Jaafari has sharpened differences among Iraq's sectarian and ethnically based parties at a time when the Americans, the British and many Iraqis themselves are encouraging politicians to show unity.
On Saturday, Shiite politicians suggested that if Kurds and Sunnis stand firm against al-Jaafari, the Shiites might oppose Sunni and Kurdish candidates for other leadership posts that require parliamentary approval, including president and parliament speaker.
Former interim Prime Minister Ayad Allawi, a secular Shiite, suggested that if the stalemate could not be broken, Iraqi leaders should hold talks on forming a "national salvation government" and invite all political groups, including some not represented in parliament.
Shiite official Hadi al-Amiri dismissed that idea and accused Allawi, whose party won only 25 seats in the Dec. 15 election, of trying to sidestep the decision of the electorate.
Copyright 2018 The Associated Press. All rights reserved. This material may not be published, broadcast, rewritten or redistributed. We strive to uphold our values for every story published.