Jeff Seymour shops at Hy-Vee and Dillons for his groceries, and doesn't mind one bit that the world's biggest company is about to jump into the market right here in Lawrence.
The more, the merrier.
"As far as being a consumer, it's a good thing," said Seymour, a Lawrence resident and sales executive. "It might hurt the other stores' profit margins a bit, but it's like any other business. Competition can be good."
The competition, in this case, comes from Wal-Mart. In early September, the retail juggernaut plans to open its new 40,000-square-foot grocery store inside its expanded supercenter at 33rd and Iowa streets.
The grocery operation will be the last portion of the store's expansion project to open. The entire store is growing from 120,000 square feet to 210,000 square feet.
Once the dust settles on the project, the store's weekly transactions should increase to 70,000 from its current 35,000, said Richard Chappelle, store manager. Wal-Mart's staff will go from its current 310 employees to as many as 425.
With room to sell a full line of food products beyond the chips, cookies and soda that already have been available, Wal-Mart plans to sell pre-packaged meats, fresh vegetables and all the grocery basics - from familiar brand names to Wal-Mart's own "Great Value" label - that cost-conscious shoppers can consume.
"It's all going to be about price," Chappelle said. "We sell for less, and we will continue to sell for less."
Leaders of other grocery stores in town understand what's coming.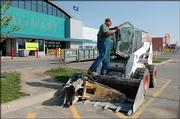 Among them is John Olson, store director at Hy-Vee, 3514 Clinton Parkway. He's seen the strategy before: In a crowded market, new stores know they'll get shoppers stopping by who want to see what's new in town; the next step is keeping them.
"You've got to invite them back," Olson said, "and usually the first way to do that is with price."
Hy-Vee already has adjusted its prices in recent years to reflect Wal-Mart's influence on the market. The Iowa-based company has relationships with other grocers to buy products in bulk, so that it can pass along cheaper prices to customers.
Olson said that his store would compete well against Wal-Mart on price, but also continue to stress its personal service, clean operations and other features.
"The market does change," said Olson, whose store has 250 employees. "We've been competing against Wal-Mart Supercenters now for about seven years, and in those seven years they've opened about 150 Wal-Mart Supercenters against Hy-Vees in the seven states that we operate in - direct markets. And we've had record sales, record profit in each of those years. So we feel pretty confident that we've learned to compete with Wal-Mart in the marketplace."
Community Mercantile Co-op, 901 Iowa, already is looking at plans to beef up its deli and specialty-kitchen offerings, two sections that Wal-Mart won't have. The Merc already has survived previous competitive challenges from Wild Oats Market, and the threat of Whole Foods remains on the radar.
But while Wal-Mart isn't often thought of as an organic powerhouse, the supercenter will stock organic pastas right alongside the regular Ragð sauces.
It's something the Merc won't take lightly, said Carol Nalbandian, president of the store's board of directors, and others also should be wary of ignoring Wal-Mart's entrance.
"All of us have to live up to providing the best we can," Nalbandian said. "In some ways the competition gives you motivation."
Debbie Ackerman just hopes the new Wal-Mart grocery won't push any other stores in town out of business. She's been shopping at Checkers, 2301 La., for 15 years now, and couldn't imagine missing out on the fresh produce and easy-to-find merchandise she's come to expect.
"I love the low prices," she said.
Chappelle, the Wal-Mart manager, doesn't expect anyone to close. Food 4 Less left the market in December, but the other players - Hy-Vee, Dillons, Checkers, SuperTarget and Aldi - all have experience handling competition, he said.
"They're great competitors," he said. "They all have a good sense of customers' needs and customers' wants. : They will be difficult for us to compete against."
Copyright 2018 The Lawrence Journal-World. All rights reserved. This material may not be published, broadcast, rewritten or redistributed. We strive to uphold our values for every story published.