The Kaw Valley Soccer Association brought out their dream teams for the Kaw Cup Saturday at Youth Sports Inc. The 12U Club Select team took on the BC Green Dragons to open the tournament at Youth Sports Inc. Despite drawing together the best of the Club league, the Dragons were too tough of an opponent, taking the win 7-0.
KVSA Club Select coach DiAnn Mroszczak said the loss wasn't surprising when you consider this was the first time her team had played together.
"Essentially, this is an all-star team," Mroszczak said. "Maybe not the best of all the club teams, but those who are dedicated and show promise are on select teams. We have a good team of players here, they just need to learn how to read one another."
Brock Chartier was able to break up several pushes by the Dragons. The Club team was not able to turn these mistakes around, letting the Green Dragons get the first goal of the game.
Dante Tucker kept the defense strong for his team, stopping the Dragons from scoring more than they did. Brandon Watcher and Joshua Ellis of the Green Dragons lead the entire game in scoring.
The Club team began to gel together a bit by the time the second half rolled around, slowing the speed of the game down. The Club team just couldn't push past the solid brick wall of defense to get to their offensive zone.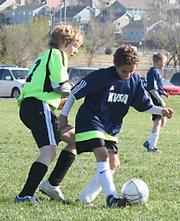 Chartier led an offensive coup against the Dragons, only to lose control at the last minute. After this surge, however, the offense dipped under the radar for the rest of the game.
John King got a smooth steal to kick toward the Green Dragon goal, but the Dragons quickly regained control and finished out the half holding on to shut-out the local boys.
"Whenever we do the Select teams," Mroszczak said, "we have to work hard on communication and getting positions down. I'm sure they'll get better the longer they play together."
Goalie Luke Volgost was disappointed with his performance.
"They always got close to me." he said. "The couple of shots I did stop did stand out though. I was glad I got those."
Defenseman Craig Hendricks said their speed was good, but communication suffered.
"We hustled really well," he said. "Towards the end of the game, we were talking a lot."
The rest of the tournamentwas a learning experience as the team dropped another game to BV KC Crush 6-0 and a 9-0 loss to Emporia Arsenal.
Copyright 2018 The Lawrence Journal-World. All rights reserved. This material may not be published, broadcast, rewritten or redistributed. We strive to uphold our values for every story published.