A rally in the late innings by Lawrence High's baseball team had Tulsa (Okla.) Kelley - the top-ranked team in Oklahoma's Class 5A - sweating until the final out Saturday at Ice Field.
However, the rally was squashed by a game-ending double play in the seventh, and LHS fell, 5-3.
Scoreless through five innings, the Lions pulled to 4-2 in the sixth. Each team scored a run in the seventh.
"I'm real proud of our kids. I've got no complaints right now. We had a great team on the ropes there with a chance to win it," LHS coach Brad Stoll said. "We had a lot of guys who just didn't get frustrated, and I really felt there in the last inning that we were going to win. I had a good feeling about it."
Kelley - the Oklahoma Class 5A state runner-up a year ago - started Jeff Scardino on mound. Scardino was perfect through 32â3 innings before Marc Albers' single gave Lawrence its first base-runner.
"I'm really proud, because that kid was mowing us down. He was pitching three pitches for a strike, and he was legit," Stoll said of Scardino, who had 10 strikeouts.
Two innings later, the Lions finally ended the undefeated Comets' shutout bid as Nick Madl scored on a double steal with Brian Heere.
Following Michael Sickinger's second strikeout, Albers brought Heere home on his second hit of the day.
"It was a pretty good test, and it showed our heart in the end. We could have come out with a little more of a spark, but we ended on a good note," Albers said. "It was a really good test seeing how other states play baseball, and we can hang in with the best of them."
Tony Williams scored Lawrence's lone run in the seventh as a pinch-runner for John Novotny, who led off the bottom half of the inning with a single.
Although the offense was nonexistent early, LHS starter Daniel Green never let the game get out of hand. Green got out of a bases-loaded jam unharmed in the second and limited Kelley to four runs in his six innings.
Photo Gallery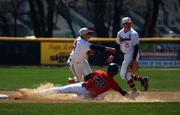 LHS baseball vs. Tulsa
"Daniel Green pitched tremendously : he just ran into a great team today," Stoll said.
Jordan Guntert gave up a run in relief before retiring the side in the seventh.
Stoll said the Lions' ability to stay with an elite team would help them against Sunflower League foes.
"We're going to see another awesome team on Tuesday, and now we're ready. I think we're more prepared to see another good team now," Stoll said.
The Lions will start Daren Parker on the mound Tuesday when they play host to Free State at Ice Field.
"It'll be a fun day, with the scoreboard dedication to a great man, and we'll have a great crowd," Stoll said. "It's two good teams going at it, and I'm looking forward to it."
Tulsa (Okla.) Kelley 5, Lawrence 3
Kelley 101 101 1-5 9 3
Lawrence 000 002 1-3 6 2
W - Jeff Scardino. L - Daniel Green.
Copyright 2018 The Lawrence Journal-World. All rights reserved. This material may not be published, broadcast, rewritten or redistributed. We strive to uphold our values for every story published.