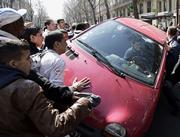 Paris — A picnic by student protesters held in the middle of a busy Paris boulevard turned violent Friday when a frustrated motorist burst through the crowd, injuring 10. Outraged students set upon the driver, overturning his car before police stepped in.
The scene in the Latin Quarter highlighted the increasing unruliness of college and high school students leading protests against a new jobs law for youths.
But spring break, which starts this weekend, may succeed where politicians have failed in ending the protests. With Alpine ski slopes and Mediterranean beaches calling, high school students in particular say they will have to stop their protests to vacation with mom and dad.
"I'm sorry to say so, but I think the movement is going to lose steam," said Elies Alexandre, one of about 200 high school students taking part in Friday's violence-marred sit-in near the Sorbonne University, which has been closed for a month.
Students more keen to protest than study have been at the forefront of the standoff with the government over a law that was designed to spur the hirings of youths younger than 26 by making it easier for companies to fire them. The law was meant, above all, to help those less qualified get a first job, but city students led the protests.
The ranks of protesters could dwindle with spring break, though many older university students say their determination is unbending.
A week ago, President Jacques Chirac, trying to end the crisis, ordered the law modified. On Friday, lawmakers ended three days of talks with unions and students, saying a bill based on a "synthesis" of the talks would be presented. No details were given.
Copyright 2017 The Associated Press. All rights reserved. This material may not be published, broadcast, rewritten or redistributed. We strive to uphold our values for every story published.