Washington — For 2,000 years Judas has been reviled for betraying Jesus. Now a newly translated ancient document seeks to tell his side of the story.
The "Gospel of Judas" tells a far different tale from the four gospels in the New Testament. It portrays Judas as a favored disciple who was given special knowledge by Jesus - and who turned him in at Jesus' request.
"You will be cursed by the other generations - and you will come to rule over them," Jesus tells Judas in the document made public Thursday.
The text, one of several ancient documents found in the Egyptian desert in 1970, was preserved and translated by a team of scholars. It was made public in an English translation by the National Geographic Society.
Religious and lay readers will debate the meaning and truth of the manuscript.
But it does show the diversity of beliefs in early Christianity, said Marvin Meyer, professor of Bible studies at Chapman University in Orange, Calif.
The text, in the Coptic language, was dated to about the year 300 and is a copy of an earlier Greek version.
A "Gospel of Judas" was first mentioned about A.D. 180 by Bishop Irenaeus of Lyon, in what is now France. The bishop denounced the manuscript as heresy because it differed from mainstream Christianity. The actual text had been thought lost until this discovery.
Rev. Donald Senior, president of the Catholic Theological Union of Chicago, said, "Let a vigorous debate on the significance of this fascinating ancient text begin."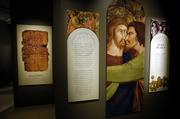 Senior expressed doubt that the new gospel will rival the New Testament, but he allowed that opinions are likely to vary.
Craig Evans, a professor at Acadia Divinity College in Nova Scotia, Canada, said New Testament explanations for Judas' betrayal range from money to the influence of Satan.
"Perhaps more now can be said," he commented.
The document "implies that Judas only did what Jesus wanted him to do."
Christianity in the ancient world was much more diverse than it is now, with a number of gospels circulating in addition to the four that were finally collected into the New Testament, noted Bart Ehrman, chairman of religious studies at the University of North Carolina.
Ehrman is a graduate of Lawrence High School in Lawrence, Kan.
Eventually, one point of view prevailed and the others were declared heresy, he said, including the Gnostics who believed that salvation depended on secret knowledge that Jesus imparted, particularly to Judas.
Copyright 2018 The Associated Press. All rights reserved. This material may not be published, broadcast, rewritten or redistributed. We strive to uphold our values for every story published.