Shari Head's roof and front porch will have to be replaced.
The south side of her house is bowed. And there's big hole in the ceiling in one of the upstairs bedrooms.
"It's a mess," she said, referring to the damage caused by the March 12 wind storm that pushed a neighbor's giant walnut tree onto her house at 1416 Conn.
But Head vowed Tuesday to stay at the home, which has a garden dedicated to her late twin sister. So far, there are no problems from the insurance company.
"There are some things that haven't been decided yet, but it looks like we'll be OK," she said.
Head, a housemother at the Pi Kappa Phi fraternity, wasn't home when the 1-foot-thick limb crashed through the roof.
"I was at the fraternity," she said. "But my son was downstairs when it hit. He said he heard a loud boom and looked outside just as the neighbor's fence went flying."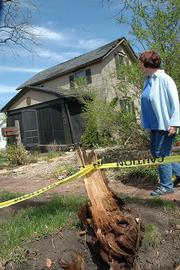 Head spent much of Tuesday morning puttering in the garden that fills every inch of her backyard.
"When it's in full bloom, it looks like an English garden," she said.
For Head, it's a special place.
"I hear my sister's voice when I'm working out here," she said.
Head's twin sister, Salli Hoag, died in a car accident in 1994. She was the wife of Charlie Hoag, a Kansas University football and basketball standout who won a gold medal at the 1952 Olympics.
Months after her sister's death, Head's mother and father died of cancer and a stroke, respectively.
Head, who was living in Manhattan, used her inheritance to buy the small, two-story older home just east of Central Junior High School.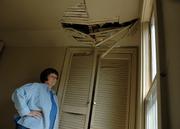 "I've always loved Lawrence," she said.
Because her sister had been an avid gardener, Head vowed to make the backyard worthy of her memory.
"I wasn't a gardener at all," she said. "But my goal was to get to the point where I would be on the Master Gardeners' tour they put on every two years."
The yard was on last year's tour. It also was featured on Sunflower Broadband Channel 6's "Home and Away."
"That was wonderful," she said. "And the garden will be back. I'm not giving up."
Copyright 2018 The Lawrence Journal-World. All rights reserved. This material may not be published, broadcast, rewritten or redistributed. We strive to uphold our values for every story published.