Fargo, N.D. — Volunteers filled and stacked sandbags Saturday to protect homes in North Dakota and Minnesota from the rising Red River and its tributaries, swollen by a combination of melting snow and heavy rain.
Mayor Bruce Furness said Fargo was preparing for a flood crest next week of 37 to 38 feet, well above the official flood stage of 18 feet.
However, he has said that would threaten only about 30 homes - compared with about 130 flooded in 1997.
Along with the sandbagging, the mayor said Saturday there were signs the river's rise is slowing.
"We're feeling better today than we did yesterday," Furness said.
On the Minnesota side of the Red River valley, the Buffalo River went over its banks, and the Rev. Brad Lewis had to use a canoe to get around his five-acre farmstead, about 15 miles south of Fargo near Sabin, Minn.
Authorities in Minnesota's Norman County closed highways on the west and south sides of the town of Ada because of flooding Saturday, and residents of vulnerable homes were sandbagging, dispatcher Joel Andersen said.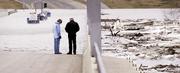 The town of Hendrum, about 20 miles north of Moorhead on the North Dakota line, was bracing for a record flood stage, expected to hit Tuesday.
"We've been having a couple of cooler nights, and that's helped things out quite a bit," Andersen said. "It could be a possibility that we get rid of this, but it could go the other way. Anything could happen."
The National Weather Service also predicted major flooding at Grand Forks, saying the Red River could rise to about 47 feet there by next Friday.
Flood stage in Grand Forks is 28 feet, but residents are protected by a huge dike that was started after the 1997 disaster.
Heavy rain that fell in the region Thursday worsened the snow-melt flooding and closed at least 35 bridges and more than 25 county roads in Richland County, south of Fargo, said county engineer Tim Schulte.
He warned people not to drive around barriers.
"Just because you think the road's there - it might not be," he said.
One woman died in a water-filled ditch, where she apparently fell while trying to walk home after her car stalled on a flooded road, authorities said.
The rain was part of a line of damaging thunderstorms that rolled across the Midwest.
On Friday, the storms knocked out power to 4,000 customers in Michigan, and tornadoes touched down in northwestern Ohio and in central Indiana.
The twisters damaged homes and businesses, but caused no serious injuries.
Copyright 2018 The Associated Press. All rights reserved. This material may not be published, broadcast, rewritten or redistributed. We strive to uphold our values for every story published.