A Baldwin Elementary teacher who taught at the school for 35 years never lost her willingness to help people find out information, three of her former students said.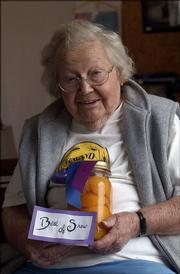 After she retired from teaching in 1974, Katharine Kelley, 96, volunteered at the Baldwin City Library as a historian until she died Tuesday.
Kelley taught at Baldwin Elementary from 1939 to 1974.
"She would always take us on walks outside to identify wildflowers and birds," said Kathy Johnston, a former student of Kelley's and now a Baldwin librarian.
Another Baldwin librarian had Kelley as a teacher for fourth and fifth grades.
"She just said that she liked our class, but it was probably just a nice way to say she had to move up," Phyllis Braun said.
While Kelley developed a passion for birds, flowers and local history, another former student said he remembered her for making sculptures out of ivory soap.
"That was one of the very few art experiences I had as a child, but it made a huge difference for me," said Walt Bailey, a Baker University art professor.
Kelley became well known as she worked on local genealogy and history at the Baldwin City Library. Monday, she gathered information for a Topeka man's family who lived in the area in the early 1900s, Braun said.
Kelley was featured in several Journal-World articles, including when she was a 5-year-old churchgoer at Vinland Presbyterian Church south of Lawrence. At church, she met James Naismith, the inventor of basketball.
Her former students said that she wore many hats, but one stood out to them.
"She was my favorite teacher," Johnston said. "She went the extra mile."
Copyright 2018 The Lawrence Journal-World. All rights reserved. This material may not be published, broadcast, rewritten or redistributed. We strive to uphold our values for every story published.