Denver — Rod Smith, Mike Anderson and the Denver Broncos made that newfangled Kansas City defense seem a lot like the old one. And that vaunted Chiefs offense looked pretty lame, too.
Anderson ran for a 44-yard touchdown, and Smith became the first undrafted player in NFL history to reach 10,000 yards receiving Monday night, as the Broncos handled Kansas City from start to finish in a 30-10 victory.
Jake Plummer went 13-of-18 for 152 yards - including a 12-yard TD to Smith - and ran for a score on fourth-and-goal from the one, an efficient performance that was more than enough to blow out Trent Green and the Chiefs.
"I didn't do much but just guided them down the field," Plummer said.
Green finally threw his first touchdown of the season with two minutes left - a 21-yard pass to Samie Parker - but it was cosmetic, a score that helped Dick Vermeil avoid his worst loss as an NFL coach and the Chiefs avoid matching their worst loss in the 46-year history of this AFC West series.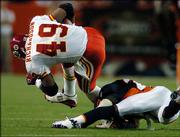 Green had 27 TD passes last year for the NFL's most productive offense. The Chiefs (2-1) were anything but productive on this night.
Priest Holmes finished with only 61 yards, and backfieldmate Larry Johnson had 13 yards on eight carries.
Harassed by Gerard Warren and Courtney Brown - two members of Denver's revamped defensive line - Green finished 23-of-44 for 221 yards and the garbage TD.
"I think we proved we can play with the best of them," Broncos defensive end Trevor Pryce said. "That was the best offense in the NFL, make no doubt about it."
When the Broncos (2-1) weren't making Kansas City look bad, the Chiefs were doing it themselves. They finished with 118 yards in penalties, including eight infractions in the first half while the Broncos were cruising to a 20-0 lead.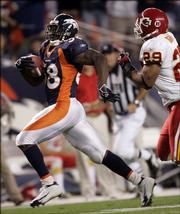 The perennially soft Kansas City defense added players this season - most notably defensive backs Patrick Surtain and Sammy Knight and linebacker Kendrell Bell - and when the Chiefs allowed a total of 24 points over the first two games, it looked like the fixes were working.
They took a big step backward against the Broncos, who finally started clicking after two rugged games to start the season.
Anderson, who has struggled since hurting his ribs in the first half of the opener against Miami, went through a huge hole untouched in the first quarter for his long score and a 10-0 lead.
"We didn't want to sit back," Anderson said. "We wanted to go right at them. That's why the first score was so important. We had to run the ball to make the play-action so effective."
The Broncos used Anderson to work the clock in the second half and he finished with 98 yards on 20 carries.
Three plays after Anderson's touchdown, Brown recovered his second fumble of the season and the Broncos scored right away, when Plummer saw Smith at the back of the end zone for the 12-yard score.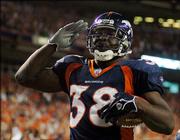 The Denver receiver caught seven passes for 80 yards. He hit his milestone with a 19-yard catch in the third quarter, making him the 24th player to reach 10,000 yards. He celebrated in his typical understated style - getting up and lining up for the next play. Five plays later, Plummer bootlegged in from a yard to give the Broncos a 27-3 lead.
Early in the fourth quarter, Smith took a rough hit from Knight after catching an 11-yard pass, but walked off the field under his own power. He was diagnosed with a concussion and did not return. The Broncos also lost cornerback Champ Bailey to a hamstring injury in the second quarter.
Copyright 2018 The Associated Press. All rights reserved. This material may not be published, broadcast, rewritten or redistributed. We strive to uphold our values for every story published.