Before the season, you would have been hard pressed to think of a reason why Kansas State should contend in the Big 12 North.
Now, the question is: Why shouldn't the Wildcats?
Every team in the North is vulnerable. The nonconference portion of the schedule proved that.
After a 54-7 feel-good victory over North Texas, the Wildcats are eager to move on to their Big 12 Conference opener Saturday at Oklahoma.
"I think this win was a steppingstone for us," freshman running back Parrish Fisher said. "We got a big win, and I feel like we are ready to head into conference play. We know that the Big 12 teams we face will be tougher, so we have to keep working and improving each day."
The Wildcats were picked to finish fifth in the North, ahead of only Kansas University. But the division now looks balanced and ripe for the taking.
Preseason favorite Iowa State struggled to hold off Army, 28-21, on Friday, and the Cyclones' 23-3 victory over Iowa on Sept. 10 doesn't look quite as impressive after Ohio State throttled the Hawkeyes, 31-6.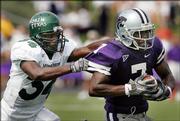 KU is 3-0 for the first time since 1997 but has built its record against undistinguished competition.
Nebraska also is 3-0, but the Cornhuskers have an offense that has mustered a total of three touchdowns in three games.
Missouri is 2-1 but hasn't proved it can stop anyone.
Defending North champion Colorado also is 2-1 and still looks like the class of the division. But the Buffaloes were shaky on the road in a 23-3 loss at No. 9 Miami, where they committed a school-record 16 penalties.
The North, to be sure, has been hard to predict. The Wildcats won the division in 2003 and shocked Oklahoma, 35-7, in the conference championship game, only to drop to last place last season.
So being 3-0 for the 13th time in 15 years means little to Kansas State coach Bill Snyder.
"We haven't really done enough to say that were really up there yet," Snyder said. "There are other schools who have obviously played a more difficult schedule and fared well. I think those teams would be the odds-on favorites as it stands."
But the Wildcats have reason to be optimistic.
Fisher, who had 169 yards subbing for the suspended Thomas Clayton, become the first freshman in school history to rush for 100 yards.
The Wildcats rolled up 658 yards of total offense, breaking the school record of 638 set in 1997 against Bowling Green.
Allen Webb completed 10 of 12 passes for a career-high 256 yards, including three passes of 40 or more yards. He's the first Wildcat quarterback to throw for more than 250 yards since Ell Roberson's 294 against Ohio State in the 2004 Fiesta Bowl.
Wide receiver Jordy Nelson caught his third touchdown pass in three games and Jermaine Moreira returned a second-quarter punt 62 yards for a touchdown, the first at Kansas State since Darren Sproles' 63-yarder against Kansas in 2003.
"It was very important to get this win going into Oklahoma," Moreira said. "It builds our confidence a lot more."
Copyright 2018 The Associated Press. All rights reserved. This material may not be published, broadcast, rewritten or redistributed. We strive to uphold our values for every story published.