Seeing monarch butterflies at ground level is one thing. Seeing them while flying along with them several thousand feet in the air is something else.
That's exactly what Francisco "Vico" Gutierrez had been doing when he landed his ultralight airplane Sunday afternoon at Lawrence Municipal Airport.
Gutierrez considered the day a success because he had managed to spot two monarchs 3,500 feet in the air somewhere between Lawrence and Odessa, Mo., where he had taken off earlier in the day.
"We fly with the stream and you see them," Gutierrez said. "Sometimes two or three at a time."
Gutierrez is videotaping the monarchs from the air while a ground crew of five follows him in a van. They are following the butterflies on their fall migration to Mexico.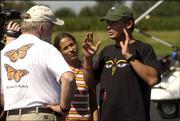 They were greeted at the airport by Kansas University ecology professor Chip Taylor, who also heads Monarch Watch.
"Nothing like this has been done," Taylor said. "It's really a marvelous adventure and one that very few people would even think about as a possibility because it is risky."
Although the general migration route is known, the possible obstacles facing someone on an ultralight are not, Taylor said. The weather also could be a factor.
Gutierrez, who said he had flown an ultralight over mountains in Mexico, shrugged off the difficulties weather might cause.
"If the monarchs don't fly, I don't fly," he said.
But Gutierrez has also seen hundreds of them at a time, such as near Ontario, Canada, as the monarchs were ready to cross Lake Erie.
Gutierrez, who is from Mexico, took off in his ultralight Aug. 21 in Montreal and is following one of the migration routes, which cuts a swath through the Midwest and passes through Kansas. Several monarchs could be seen flying near the ground near the airport.
The ultralight's 32-foot wingspan has a monarch painted on top of it and he has given his aircraft the name, Papalotzin. The word means "royal butterfly" in the Nowati language once spoken by the Aztecs but which is still spoken by many today in Mexico, said Tania Guerrero Collazo, a member of the ground crew who also is from Mexico.
The Papalotzin crew saw many monarchs when they passed through the Shenandoah National Park in Tennessee and then near St. Louis.
The crew will be in Lawrence until Tuesday and is filming interviews and monarch tagging exercises with Taylor. They hope the documentary and publicity about it brings public awareness of the Monarch and related conservation issues.
He was excited to hear about the monarchs spotted by Gutierrez at 3,500 feet.
"This is perfect," Taylor said. "That is exactly what I anticipated they would find today."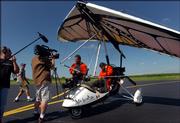 Monarchs catch warm air currents or swirls known as thermals, which lift the butterflies high into the air. They then set themselves for a glide to the southwest when they hit a laminar air flow.
"Monarchs do this quite a bit but we don't how much they do it," Taylor said.
Monarchs are the largest insect to fly at such a high elevation. They are generally left alone by birds, apparently because the birds don't find them tasty enough, Taylor said.
The Papalotzin crew will travel on into Texas and cross into Mexico as the monarchs make their way to sanctuaries in central Mexico. Taylor will be with the crew at 2 p.m. today at the Baker Wetlands for a short period of monarch tagging. He said anyone was welcome to come and watch.
This year's monarch population is strong and the migration through the Lawrence area should continue until about Oct. 4, Taylor said.
Also at the airport Sunday was Kay Milam, of Louisville, Ky., who is with an independent film crew also making a documentary about migrating monarchs and the people interested in them.
"It follows the migration but it is as much about the people who are passionate about monarchs," she said. "The story is told through their eyes."
Copyright 2018 The Lawrence Journal-World. All rights reserved. This material may not be published, broadcast, rewritten or redistributed. We strive to uphold our values for every story published.