When Hurricane Katrina ravaged coastal Louisiana and Mississippi, the aircraft carrier USS Harry S. Truman was dispatched to the Gulf of Mexico to serve as a floating command center for relief operations.
Four days later.
For Hurricane Rita, a state-of-the-art, ground-based command center was established at the U.S. Northern Command headquarters in Colorado Springs, Colo.
Two days early.
Given a rare second chance in the form of the second monster hurricane to hit the Gulf coast in less than a month, government agencies were determined not to repeat the failures of Hurricane Katrina.
State and local officials issued their own evacuation orders, marshaled buses and other resources, and asked in advance for federal help - whether it was Louisiana Gov. Kathleen Blanco asking in writing for 15,000 active-duty troops, or Texas Gov. Rick Perry asking for extra fuel.
Photo Gallery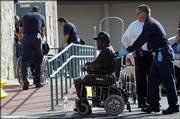 Hurricane Rita
Most notably, government agencies took the step of involving the U.S. military in advance rather than after the fact.
"Just having been through the double catastrophic disaster, we learned not to make any assumptions about preparedness," said FEMA spokeswoman Debbie Wing.
Military response
Ultimately up to 28,000 troops responded to Katrina, although they arrived several days after the hurricane landed. In preparation for Rita, which turned out to be a less damaging storm, the military deployed about 50,000 troops on the ground or aboard ships to support relief operations before the hurricane hit land.
The military reserved 26 helicopters for search and rescue. Six naval vessels - the USS Iwo Jima, USS Shreveport, USS Tortuga, USS Grapple, USNS Patuxent and USNS Comfort - were sent to follow the storm to the Texas coast. Fort Sam Houston in San Antonio was designated as the central clearinghouse for the distribution of relief supplies. In addition, the Coast Guard reserved 40 aircraft and nine cutters.
During Katrina, the military also sent naval vessels to the rescue, but all were dispatched days after the hurricane landed.
The Federal Emergency Management Agency stockpiled in advance essential provisions like food, water, hospital beds and satellite telephones. FEMA safely stored enough food and water in Texas and Louisiana, including 165 truckloads of ice, 185 truckloads of water, and 98 truckloads of food.
President Bush made a conspicuous show of his involvement, from a visit Friday to FEMA headquarters to a full schedule of Rita activities Saturday, including a stop at U.S. Northern Command headquarters and trip to Texas to observe relief operations.
That compares starkly with Katrina, when Bush flew over the stricken region two days after the storm hit, and only visited the area destroyed by the storm after another two days passed.
Bush declared Katrina "an incident of national significance" the day after it slammed Louisiana and Mississippi, clearing the way for a full federal response.
For Rita? The declaration was made last Wednesday.
Lessons learned
The improved preparations could be seen again and again:
¢ The military organized massive resources well in advance of Rita, taking special care to prevent the kinds of horrors caused by Katrina at hospitals and nursing homes. Military aircraft, flying 39 missions Thursday and Friday, evacuated several thousand patients from hospitals in Beaumont, Texas, and Lake Charles, La. All were taken to hospitals elsewhere.
National Guard troops assisted in the mandatory evacuation of millions of people from coastal Texas and Louisiana, in some cases delivering gasoline in tanker trucks to evacuees who ran out of fuel.
¢ Two days passed after Katrina hit before the Pentagon appointed Lt. Gen. Russel Honore as military joint task force leader. This time, Lt. Gen. Robert Clark was named task force commander before Rita came ashore.
¢ In preparation for Rita, the Northern Command made sure troops and emergency personnel had plenty of satellite phones and long-range radios, and that communications teams were in place before the storm arrived. Jack Deasy with Inmarsat, the company that supplies satellite communications equipment to the government, said his company had supplied the proper agencies with all the satellite phones it needed well before Rita landed. The communication problems that handicapped troops during Katrina's aftermath would not be repeated.
¢ The second big storm in four weeks also seemed to hasten evacuations in Louisiana and Texas and Louisiana. Cities issued their own evacuation orders, which were supported and encouraged by state and federal leaders. Port Arthur, Texas, a city of 60,000, provided municipal and school buses to transport several thousand residents who could not evacuate on their own.
New Orleans Mayor Ray Nagin ordered a mandatory evacuation of his city the day before Katrina swept through the city. Not taking any chances, local officials in Corpus Christi called for a mandatory evacuation three days before Rita was to hit the Texas coast.
Residents also seemed to take evacuation orders more seriously this time.
"The more important effect of Katrina was on the households," said Michael K. Lindell, director of the Hazard Reduction and Recovery Center at Texas A&M; University.
"We think that what happened was there was a higher level of compliance and that there was a much higher level of spontaneous evacuation (people who evacuated even though they were not ordered to). This is a guess, that there might have been approximately 50 percent more vehicles evacuating than we had built into our evacuation modeling."
Copyright 2018 The Associated Press. All rights reserved. This material may not be published, broadcast, rewritten or redistributed. We strive to uphold our values for every story published.