Baghdad, Iraq — Heavy fighting surged Friday in the Euphrates River city of Ramadi, police and hospital officials said, and the U.S. military reported the deaths of two more soldiers around the militant stronghold, scene of nearly one-quarter of 29 American deaths this month.
In Baghdad, a suicide bomber on a public minibus set off an explosives belt as the vehicle approached a busy terminal Friday, killing at least five people and wounding eight, police said.
Also in the capital, gunmen killed a member of the commission charged with ensuring former members of Saddam Hussein's Baathist regime are banned from the Iraqi government, police said. Thirteen commission members have been killed since it was created two years ago.
The U.S. military declined to say if it was conducting a large offensive against Ramadi, but police and residents have reported heavy fighting there during the past week. Seven service members have died in or near the city since Sept. 1.
"There are 30 to 40 battalion-level operations going on across Iraq on any given day," said Lt. Col. Steven A. Boylan, a U.S. military spokesman in Baghdad. "What you are seeing is the pattern of operations that we have been conducting almost every day here."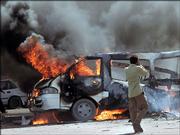 The latest military deaths occurred Thursday: one a roadside bombing between Ramadi and nearby Fallujah, the other in a gunbattle in Ramadi, 70 miles west of Baghdad. Those killings raised to at least 1,912 the number of U.S. service members who have died since the beginning of the Iraq war in March 2003.
Ramadi police Capt. Nasir Al-Alousi said American forces airlifted equipment into the city stadium before dawn Friday. He said clashes erupted in that area and spread to an industrial zone after sunrise, continuing until at least midday.
Dr. Omar al-Rawi at Ramadi General Hospital said two people were killed and eight wounded in the fighting. Police Lt. Mohammed Tirbas Al-Obaidi said a roadside bomb destroyed an American armored vehicle, but it was impossible to say if there were casualties because U.S. forces blocked the area.
The deadliest day for U.S. forces in Ramadi this month was Monday, when four soldiers attached to the Marines died in two roadside bombings.
Militant stronghold
Militants have used Ramadi as a stronghold since the start of the insurgency two years ago. The city of about 300,000 is the capital of Anbar province, which fans out west from Baghdad to the Saudi, Jordanian and Syrian borders.
It includes much of the Sunni heartland, where residents lived a relatively privileged life under Saddam, a Sunni. Since Saddam's ouster by the U.S.-led coalition, the insurgency has grown in strength. At one time or another, militants have controlled most of the major population centers along the Euphrates, which flows southwest through the province from the Syrian border toward Baghdad.
U.S. forces conducted a major offensive in the region in November to retake control of Fallujah, 30 miles east of Ramadi. American troops continue fighting skirmishes along the Euphrates, a major infiltration route for foreign fighters sneaking into the country from Syria to fight under the banner of al-Qaida in Iraq, the creation of Jordanian-born terrorist Abu Mussab al-Zarqawi.
A major focus of U.S. operations in Anbar province, a senior American military officer has said, was to help the Iraqis regain control of a 250-mile stretch of Syrian border on either side of the city of Qaim. The official said it was imperative that the border be closed to insurgents before the Oct. 15 referendum on Iraq's new constitution.
Much of the minority Sunni political and religious leadership - and now some Shiite leaders - oppose the proposed charter. But the new basic law got a major boost this week, winning support from Iraq's most revered Shiite leader, Grand Ayatollah Ali al-Sistani.
Copyright 2018 The Associated Press. All rights reserved. This material may not be published, broadcast, rewritten or redistributed. We strive to uphold our values for every story published.