Jerusalem — A massive explosion ripped through the crowd at a rally staged by the Palestinian militant group Hamas in the Gaza Strip on Friday, killing at least 10 Palestinians and wounding scores of others, medical officials said.
Hamas blamed Israel, which categorically denied any involvement in the blast. Witness accounts and some Palestinian Authority officials suggested that ordnance and weaponry being paraded by the group had accidentally exploded.
The explosion took place at nightfall during a Hamas procession through the densely populated Jabaliya refugee camp on the edge of Gaza City. Masked fighters marched or rode in a convoy of vehicles that wound through the camp's narrow streets.
At least two children were believed to be among the dead. It is not unusual for Palestinian parents to take small children to Hamas rallies, sometimes holding them aloft for a better view of the spectacle.
Witnesses said the blast originated in a truck that appeared to have been carrying homemade Kassam rockets. The vehicle was left a twisted, charred mass of metal.
Ahmed Rajab, a 35-year-old man from Jabaliya, said he was watching the procession from 15 to 20 yards away. Those standing close to the truck were maimed by flying metal and the force of the explosion, he said.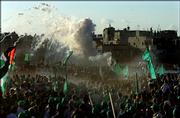 "The sound of it was huge," he said. "First I ran to get away, then I ran back and helped carry people who were hurt to ambulances."
Hamas spokesmen accused Israel of having staged an airborne strike on the rally. However, a spokesman for the Israeli Defense Forces, speaking on condition of anonymity, said flatly: "The IDF had no connection of any kind to this incident." Israel used pinpoint missile strikes to kill most of Hamas' top leaders in Gaza over the past two years, but declared more than six months ago it would only target so-called "ticking bombs," a reference to those planning imminent attacks.
The explosion came hours after militants from Islamic Jihad fired rockets into Israel, which fell harmlessly. Islamic Jihad said the rocket strikes were in retaliation for the killing of three of its members in a predawn raid in the West Bank town of Tulkarm.
Islamic Jihad has abandoned an informal truce declared in February by the main Palestinian militant factions, but Hamas has largely adhered to it.
The Hamas rally was timed to take place in advance of a ban beginning Saturday evening on the parading of weapons in public, to which all the militant factions agreed.
Palestinian Authority President Mahmoud Abbas has been struggling to keep order in Gaza in the wake of Israel's withdrawal from the territory early this month. But factional fighting and generalized lawlessness have persisted.
Hamas said at least three members of its military wing were among the dead, and said the fatalities would be avenged.
Copyright 2018 The Lawrence Journal-World. All rights reserved. This material may not be published, broadcast, rewritten or redistributed. We strive to uphold our values for every story published.