Baghdad, Iraq — Four days after al-Qaida in Iraq declared all-out war on the country's Shiite majority, more than 250 people have been killed, 30 of them in a massive car bombing Saturday outside a produce market in a Shiite suburb east of Baghdad.
In all, at least 52 people were killed or found dead throughout the country Saturday, victims of mounting sectarian killings promised by Abu Musab al-Zarqawi, the Jordanian-born leader of the terrorist organization and a moving force behind the Sunni-dominated insurgency.
After a suicide car bomber exploded his vehicle Wednesday in the midst of assembled day laborers in a largely Shiite neighborhood in north Baghdad, an audio tape posted on the Internet and claiming to be from al-Zarqawi announced "all-out war against Shiites everywhere. Beware, there will be no mercy."
The death toll from at least 14 bombings Wednesday was 167, marking the worst day of violence in the capital since U.S. troops invaded and overthrew Saddam Hussein 2 1/2 years ago.
In Saturday's remote-controlled car bombing, Interior Ministry police Maj. Falah al-Mhamadawi said the vehicle was parked in front of fruit and vegetable stands in the market at Nahrawan, about 20 miles east of Baghdad.
Victims were taken to Baghdad's al-Kindi hospital in pickup trucks and minivans, police Lt. Abdulal Ibrahim said.
Shiites have suffered the brunt of a massive campaign of bomb and shooting attacks, which al-Zarqawi said would continue against "any of (Iraq's) national guards, police or army (who are found to be) agents of the Crusaders (American forces). They will be killed and his house will be demolished or burned - after evacuating all women and children."
But as the indiscriminate bombings continued into the weekend, the majority of the dead were Shiite civilians, prompting Islamic clerics from both the Sunni and Shiite sects to call for an end to the killing of innocent people.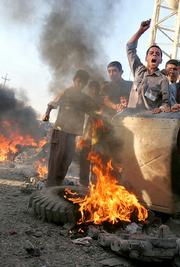 "I call for a meeting ... of all the country's religious and political leaders to take a stand against the bloodshed," Sheik Mahmud al-Sumaidaei said during his Friday sermon at Baghdad's Um al Qura Sunni mosque.
"We don't need others to come across the border and kill us in the name of defending us," he declared, a reference to foreign fighters who have joined the insurgency under the banner of al-Qaida. "We reject the killing of any Iraqi."
Throughout Iraq on Saturday, police reported finding 16 bodies that were blindfolded, bound hand and foot and shot. Two other people died in bomb attacks and four more were killed in shootings.
The bombing campaign, al-Zarqawi said, was launched in retaliation for a joint Iraqi-U.S. operation that chased his fighters and other insurgents out of their stronghold in Tal Afar. Hundreds of insurgents reportedly were killed or captured.
Also Saturday, a suicide car bomber attacked a U.S. convoy near Abu Ghraib prison west of Baghdad, destroying three vehicles, and insurgents shelled the notorious lockup with seven mortar rounds, said police Lt. Alaa Hussein.
In the same area, he reported, insurgents fired rocket-propelled grenades at a second U.S. convoy, damaging three armored vehicles.
Copyright 2018 The Associated Press. All rights reserved. This material may not be published, broadcast, rewritten or redistributed. We strive to uphold our values for every story published.