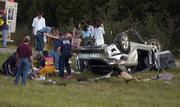 Five people were injured in a one-vehicle rollover that shut down one mile of all eastbound lanes on Kansas Highway 10 for more than one hour Saturday evening about one mile east of Lawrence.
After the accident, two of the more critically injured victims at 6:25 p.m. were flown separately by helicopter to the University of Kansas Hospital in Kansas City, Kan., said Lt. Kari Wempe of the Douglas County Sheriff's Office.
Lawrence-Douglas County Fire & Medical authorities transported the three other occupants to Lawrence Memorial Hospital, she said.
The vehicle was eastbound near the intersection of K-10 and East 1700 Road before the crash.
The rescue and investigation forced blockage of K-10's eastbound lanes for a considerable amount of time, Wempe said. Officers added a detour at Franklin Road to East 1750 Road.
After 9:45 p.m., officers continued to investigate the scene. One eastbound lane was blocked for about one mile, which caused heavy traffic congestion.
Additional information about the accident's cause and those injured was unavailable Saturday.
Copyright 2018 The Lawrence Journal-World. All rights reserved. This material may not be published, broadcast, rewritten or redistributed. We strive to uphold our values for every story published.