Kansas quarters are starting to appear in Lawrence.
"We've had some really good responses to them," said Katrina Scott at Peoples Bank, which was giving the quarters away to customers. "People have called and asked before they come in, 'Do you have the Kansas quarters? Can I buy them in a roll?'"
The Kansas quarter, which features a buffalo and sunflower, was unveiled last Friday at the State Fair in Hutchinson. Banks are getting them now.
Clerks at several downtown businesses said Wednesday they hadn't seen the state quarter yet. Amanda Vail, branch manager for Central National Bank in downtown Lawrence, said the excitement has been limited mainly to collectors so far.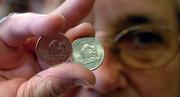 "Once there's more publicity for it, I think we'll have more requests," she said.
Steve Neher, owner of Kansas Coin Collection at 846 Ill., Suite C., said he liked the new quarter.
"It's not so busy you can't see what's on it," he said.
The Kansas quarter is part of the U.S. Mint's 50 State Quarters Program, which still has 16 states to go over the next three years before the project is complete.
Copyright 2018 The Lawrence Journal-World. All rights reserved. This material may not be published, broadcast, rewritten or redistributed. We strive to uphold our values for every story published.