Is there anything made more than 25 years ago that is not collected? Probably not.
There are even those who collect barbed wire, sawdust, pencil erasers, fancy sunglasses, handcuffs, safes, bricks and cast-iron stoves - the list seems endless. But there are some things that should not be collected. Monuments, statues and markers placed in cemeteries or parks to remember the dead should never be removed and sold; it is against the law in most states. A grave "stone" might be made of sewer tile in the Ohio area, of salt-glazed pottery in the South and of metal in other states. The carved symbols used in graveyards are recognized by most people, so it is not difficult to figure out that a statue of a woman with an anchor, a book and a lily of the valley could have been taken illegally from a cemetery. An anchor symbolizes hope, a book represents faith and a lily of the valley stands for rebirth. Other symbols to look out for: a weeping willow represents grief, ivy means undying affection or eternal life, and a lamb, often seen on a child's grave, symbolizes innocence. But most gravestones today are marked with just the name and birth and death dates of the deceased.
Q: I have a Miss Anniversary walking doll in her original box. She was made by the Natural Doll Co. of New York City. Value?
A: The Natural Doll Co. was in business in New York from 1914 or '15 to 1966. The company's trademark was the phrase "It's Natural." During its early years, the doll company made composition heads, arms and legs for other American doll manufacturers. By the 1930s, the Natural Doll Co. was manufacturing baby dolls as well as lines of dolls called Mama, Just-Lyk and Ritzi. Its best-known later doll, introduced in 1961, is a vinyl Angela Cartwright walking doll. Cartwright played Danny Thomas' daughter on the TV show "Make Room for Daddy." Angela Cartwright dolls, in excellent condition, are valued at $75 to $200, depending on size and condition. Your Miss Anniversary doll, if in excellent condition, would sell for about $30.
Q: I found a mysterious political button when I was going through my late father's collection of U.S. presidential campaign pins. The circular button is white with a red border and a red heart in the middle. Inside the heart are the initials "I.Y.H.Y.K.H.R."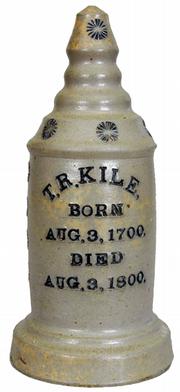 A: Political buttons that use initials to remind voters of catchy campaign slogans are sometimes hard to decipher - even during the original campaign. In this case, the button is shorthand for one of Barry Goldwater's 1964 Republican presidential campaign slogans: "In Your Heart You Know He's Right." Make a note and store it with the button. That way, your children and grandchildren will know what the initials stand for.
Q: I have a tin sign advertising Rastus Cured Sweet Potatoes. It's yellow with an orange rim and pictures a black boy holding a basket of sweet potatoes. The back is marked "AAA Sign Co., Coitsville, Ohio." When was it made?
A: Your tin sign is a fake. AAA Sign Co. sells tin reproductions of old cardboard and tin advertising signs. Any sign marked "AAA Sign Co." is new. Many of the new signs reproduce ads picturing blacks or famous ballplayers because those are the images that most interest collectors.
Q: I would like to learn more about a pair of porcelain trinket boxes that belonged to my grandfather, who died in 1926. Each box is 8 inches tall and in the shape of a person sitting in a fancy armchair. One chair is captioned "Grandmama" on the front, and the other "Grandpapa." The grandmother is sitting in the chair knitting, and the grandfather is using his right hand to hold the book he's reading and his left hand to hold his pipe. If you lift up the figures, you find a box formed by the bottom of the chair. Marks are embossed inside the lids. There's a series of numbers under a shield surrounding the image of an angled arm holding a knife. Both of the boxes are chipped, but I wonder if you can tell me where and when they were made?
A: Your porcelain trinket boxes are known as "fairings" because they were sold at 19th-century country fairs. Fairings were introduced at English fairs and were especially popular between 1860 and 1890. Most fairings, including yours, were made in Germany. The mark on your boxes was used beginning about 1878 by Conta & Boehme, a porcelain factory founded in Posneck, Germany, in 1804. The factory stayed in business until the late 1930s. Most fairings in excellent condition sell for $150 to $300. Damaged examples sell for much less.
Q: I collect Elvis Presley decanters. They are filled with bourbon, and the seals are unbroken. Will the contents damage the ceramic decanters? Should I break the seals and empty the decanters?
A: The bourbon will not harm the decanters. But some states do not allow the resale of alcoholic beverages. So, if and when you decide to sell the bottles, you'll have to do some legal research. If you drain the decanters, save the tops.
Tip
Lemon oil is a good polish for brass displayed inside the house. After polishing brass kept outdoors, use a thin coat of paste wax to protect the shine.
Current prices
Current prices are recorded from antiques shows, flea markets, sales and auctions throughout the United States. Prices vary in different locations because of local economic conditions. ¢ Brass and cast-iron tire pump, F.E. Meyers & Bro., patented 1894, 26 inches, $125. ¢ Twilight Zone board game, Ideal, 1964, $200. ¢ Hills Bros. Coffee thermometer, porcelain, Beach-Coshocton, Ohio, 1915, 21 x 9 inches, $305. ¢ Kewpie doll, all bisque, loop-jointed arms, starfish hands, impish smile, blue wings, original brown wig, Rose O'Neill, c. 1915, 5 1/2 inches, $415. ¢ Moser vase, green, shouldered form, raised green and red fish, enameled seaweed, 11 1/2 inches, $630. ¢ Royal Worcester game platter, pheasants and chicks, blue printed border, bird's head and wing-form handles, green and gold, c. 1893, 17 3/4 inches, $760. ¢ Sampler, silk thread, shades of ivory, green, gold and brown on linen, floral border, house, trees, fence, "1822 Elizabeth Graham, aged 10," 17 x 17 inches, $920. ¢ Detroit Tigers bandanna, 1907, fierce tiger, Wild Bill Donovan and Ty Cobb, manager Hughie Jennings, gold and black, 17 x 17 inches, $1,255. ¢ Sheraton breakfast table, pedestal base, mahogany, saber legs, brass paw feet, 2 drawers, single leaf, 48 inches, $1,725. ¢ Salesman's sample stove, Karr Qualified Range - Belleville, Ill., cobalt-blue speckled porcelain, nickel plate, rolled lid warming oven, 21 x 13 inches, $4,290.
Copyright 2018 The Lawrence Journal-World. All rights reserved. This material may not be published, broadcast, rewritten or redistributed. We strive to uphold our values for every story published.