Marcus Holman never had played eight-man football before, but what the heck.
"Some people think it's different," Holman said, "but it's not that much different."
The fleet Holman proved it Friday, running for four long touchdowns to lead Veritas Christian to a 44-8 victory over Topeka Cair Paravel at the Youth Sports Inc. fields.
Holman, a sophomore who played last year at Central Junior High, also ran for four touchdowns last weekend as the Eagles waxed Wichita Sunrise Academy, 60-22.
Eight TDs in two weeks. Not bad.
"He's just exceedingly fast," Veritas senior linebacker Andrew Bartlow said. "Jesse (Schultz), our other back, is fast, but he doesn't have that breakaway speed."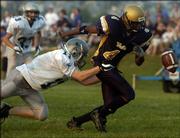 Holman scored on runs of 45, 37 and 52 yards. The 5-foot-9, 143-pound speedster also returned the second-half kickoff 69 yards for a TD. Holman carried the ball just once in the second half - his 52-yard score - and finished with 202 yards rushing on just 10 carries.
Holman, who would have attended Lawrence High, was lured to Veritas by Jesse Brinson, the Eagles defensive coordinator, who also is a youth minister at Morningstar Church.
"Jesse developed a friendship with Marcus through an outreach program at Central," Veritas coach Doug Bennett said.
Holman stressed that his faith and football weren't the only factors that attracted him to the Christian school.
"Academics are a reason, too," Holman said. "I thought it would be good for me, and I like it so far."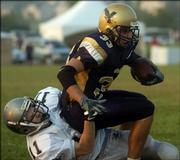 Bennett, of course, loves having Holman on his team, but for an underlying reason. Holman's ability to score has given the Eagles big enough leads in their first two games that Bennett has been able to use his second-stringers in the fourth quarter.
"It's great, because we don't have quite enough players for a junior-varsity squad," said Bennett, who has a 19-man roster. "Last year, it seemed no points could be enough. This year, I have more confidence."
Schultz carried nine times for 39 yards and a touchdown. Also, quarterback Casey Woods completed four of five passes for 48 yards, including a seven-yard TD pass to tight end Mark Randtke.
On defense, Woods picked off a pair of passes.
Veritas (2-0) will tangle with St. Joseph (Mo.) Christian on Friday at YSI.
Copyright 2017 The Lawrence Journal-World. All rights reserved. This material may not be published, broadcast, rewritten or redistributed. We strive to uphold our values for every story published.