Jack Henry-Rhoads figures recycling is a lot like any other activity in life - the easier the better.
That's why Henry-Rhoads, a Lawrence resident and Kansas University student, wants city leaders to begin a curbside recycling program instead of relying on residents taking their recyclables to drop-box locations.
"It's just a matter of convenience," he said. "I know from my own experience, it is just kind of a hassle to get everything together and get to the other side of town and drop it off."
But leaders of the city's sanitation department say their studies show curbside recycling would increase the city's total recycling by less than 5 percent and that monthly trash bills would need to double.
"Our recommendation is that the costs are so high for such a relatively small benefit that it may not be worth it," said Bob Yoos, the city's solid waste manager.
Area programs
Curbside recycling supporters, though, don't point to studies. They point to area communities.
Olathe has offered curbside recycling since 1997. The program, which pays for itself, charges residents $2.50 per month, far less than the estimated $11 per month needed to fund a recycling program in Lawrence.
In July, Salina started a curbside recycling program that charges residents $4.90 per month. It, too, is designed to be self-supporting, meaning it would not require tax dollars to operate.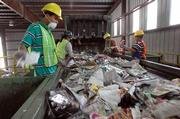 Kansas City, Mo., began a curbside program last year that allows residents to put out two bags of recycling per week for free. Each additional bag costs $1.
"I think it would be a really good idea for the city to have some sort of independent study to see why costs from other communities are significantly lower than the cost estimates we keep receiving," said Henry-Rhoads, who studied the issue as part of a 2004 Student Senate campaign that made curbside recycling a campaign plank.
But Yoos said there's a good reason why Lawrence's estimated costs come in higher than those of other communities. He said communities like Olathe, Salina and Kansas City, Mo., are all able to take their recyclables to existing, privately operated processing centers.
Yoos said that wouldn't be feasible in Lawrence because there is no private facility in the city big enough and because the Wal-Mart center wasn't designed to accommodate a string of city trash trucks dumping at its site.
Yoos estimated that to buy land and build a city-owned collection facility would cost $5 million. He said that cost is a big reason why a Lawrence system would have to charge a higher monthly fee than other communities.
Successes and failures
Not everyone is convinced. Olathe is an example of a city that doesn't have a private recycling center but still operates a low-cost, once-per-week curbside recycling program. Olathe's city crews transport their recyclables to a center in Kansas City, Kan., that is operated by Deffenbaugh Industries, a private company specializing in trash and recycling collections. Kent Seyfried, Olathe's solid waste manager, said city crews trucked the material about 20 miles one-way each day. Despite the drive time it caused, Seyfried said the center was a key reason the city was able to keep its monthly fee at $2.50 per month.
Officials at Deffenbaugh - which uses its own trucks and crews to operate curbside recycling in several cities, including Shawnee, Prairie Village and Kansas City, Mo. - said they would gladly talk with Lawrence about working out a deal for the city to drop off recyclables at their center.
Yoos said he's considered such an option but said he thought it wouldn't result in much savings because it would require more trucks and increase the city's fuel costs.
"Those trucks we drive don't get great fuel mileage, and that's a pretty big consideration these days," Yoos said.
The Deffenbaugh facility is about 30 miles from the eastern edge of Lawrence.
Besides, Yoos said, the Olathe program illustrated one of the concerns that he has about starting a curbside recycling program - it does little to increase the total amount of material being recycled in a community.
Yoos said one of his fears about a curbside recycling program was that it primarily would serve people who are recycling today by taking their goods to a drop-off center. That essentially would mean the city would be collecting recyclables for people who previously were willing to drive it to a location themselves.
Seyfried, the Olathe official, said there was evidence that was what had happened in his community since the program began in 1997.
"Our drop-off business dropped off big time," Seyfried said. "Really, what we're doing now is probably just more about providing the convenience of collection. We don't have any evidence that it has really increased the total numbers."
He said a 1995 study commissioned by the city estimated between a 3 percent to 5 percent increase in the amount of recycled materials collected in the city with a curbside program.
But some communities are reporting improvements in their overall recycling habits. In Salina, which began its program in July, leaders said a recent survey found that 27 percent of the users of the curbside program had never before been recyclers. The Salina program, though, has a different type of problem. It is not yet self-supporting.
Salina officials need 900 households - which pay $4.90 per month - to sign up for the program before it is self-sufficient. Thus far, 753 households have signed up, and the number is growing slowly, said Mike Fraser, director of general services for Salina.
"But I think, without a doubt, it is a success (from a recycling standpoint,) but whether we get it to a point that it is self-supporting, I don't know," Fraser said.
Private options
Lawrence officials have one other argument they make for staying out of the curbside recycling business. Yoos said the city already is well-served by the private industry. The city currently has five, small private companies that offer curbside recycling. Their fees typically vary from $5 per month for once per month service to $15 per month for weekly service.
"Anybody who wants curbside recycling can have it already," Yoos said. "It is there. That is what puzzles me. If there is really such a big unmet demand for this, why haven't the private haulers been swamped?"
Yoos estimated that the five private haulers serve less than 2,000 households, or less than 10 percent, of households in Lawrence.
Traci Trent, co-owner of Lawrence-based Tree Hugger Recycling, agreed with Yoos' estimate. She also agreed the city should stay out of the curbside recycling business.
"Unless there is a lot of problems with the private haulers, I don't think there is a lot of reason to change," Trent said.
But curbside proponents say that a city-run system that would require every household to pay for the service would likely cause new people to recycle. Yoos said proponents don't have the data to back that claim up and said Lawrence already has the highest recycling rate in the state at 34 percent, higher than communities with curbside programs.
Henry-Rhoads, though, said that argument might be a sign that city leaders still don't get the argument. He said city leaders shouldn't focus on Lawrence's already high rate but whether it could be higher.
"I think Lawrence is a unique community in terms of the values that it has," Henry-Rhoads said. "This is the kind of city that recycling can happen at a rate significantly higher than the averages."
Copyright 2018 The Lawrence Journal-World. All rights reserved. This material may not be published, broadcast, rewritten or redistributed. We strive to uphold our values for every story published.