Coming off its first loss of the season, Kansas University's volleyball squad meant business Tuesday night against Saint Louis.
Senior Andi Rozum served an ace to start game one, her only ace of the night and one of six team aces in a 3-0 shutout of the Billikens at Horejsi Center.
"I thought at the key times our serving was good," KU coach Ray Bechard said. "Emily (Brown) served the ball with really good pace, so I was excited about that."
Brown had four aces to lead both teams. She also led both teams in digs, accumulating 14, eight of which came in the first game.
"I felt like we played really well the whole time," said Brown, a Baldwin High product whose ace finished the first game, "then I would look up at the scoreboard every once in awhile, and that didn't really reflect it."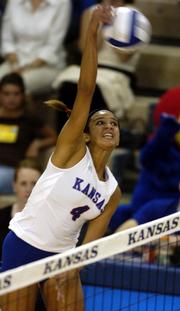 The Jayhawks led the Billikens handily in every category, but that did not translate to easy victories. In Game One, with KU leading, 17-14, Billikens coach Anne Kordes called a timeout to regroup. It worked, as the Billikens took four straight points and a one-point lead.
That did not rattle Kansas, though, as the Jayhawks' three-point stretch ended the Billikens' hopes. KU won, 30-22.
Saint Louis did not put up as much of a challenge in Game Two -- Kansas had 19 kills to SLU's nine. The Jayhawks also won the second game 30-22, in part to Brown collecting five of her 11 kills.
In Game Three, the Billikens controlled the first half. With KU down, 15-12, it was Bechard's turn to call a timeout. And it proved timely as the following volley was finished with a kill by junior Jana Correa.
That was the beginning of an 11-3 KU outburst, then senior Paula Caten put away Saint Louis for good. The Brazilian native racked up six kills in the final game, giving her a match-high 15 kills. Her final kill of the match gave KU a 30-28 victory and the match.
"I had to step up today," Caten said. "The setter was setting good to me, so I had to use that. So if I was getting good balls, I had to just make the points."
This was a key match for the Jayhawks, not only because they were coming off their first loss of the season but it was the first of a six-match homestand. Kansas will play host Friday to Virginia Commonwealth and Michigan State at the Pizza Hut Jayhawk Invitational, followed by Temple on Saturday to finish its nonconference schedule.
"We definitely (had) to get started on the right foot," Brown said. "I think we did that tonight and kind of set the tone for how the next few games are going to be."
Copyright 2018 The Lawrence Journal-World. All rights reserved. This material may not be published, broadcast, rewritten or redistributed. We strive to uphold our values for every story published.