Emily Schwartz doesn't exactly look like a geek.
She's nearly 6 feet tall, is a former track athlete and has long brown hair.
No pocket protector. No slide rule. No braces.
She promises, however, that deep down she is a card-carrying nerd. She has an engineering degree from the Massachusetts Institute of Technology to prove it.
"Everyone there is kind of nerdy; I'm not going to lie," Schwartz said. "But I kind of like it there. Part of the nerdiness is no one cares about the perceptions."
Being a nerd, it turns out, has its benefits. Like an all-expenses-paid year of study at Cambridge University in England.
Schwartz, a 2001 graduate of Lawrence High School and June graduate of MIT, will start classes at Cambridge Oct. 1 as one of 12 recipients of this year's Winston Churchill Scholarship. The award provides a full-ride scholarship for graduate study in engineering, math or science at Cambridge.
"That takes an exceptional person, even within MIT," said Paul Lagace, professor of aeronautics and astronautics at the Boston school. "It's the exceptionals of the exceptionals, if you will. What's really great about MIT students is they really have a joy for learning in general, but Emily particularly stood out in that regard."
Schwartz, the youngest of six children, already has a long list of college accolades under her belt: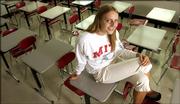 ¢ A perfect 5.0 GPA despite nearly leaving MIT freshman year when her father was killed in Alabama.
¢ The Salisbury Award, given to one or two top seniors in the aeronautics and astronomics department at MIT.
¢ MIT's De Florez Prize, which goes for "original thinking or ingenuity as demonstrated by the individual student."
She also was valedictorian of her high school class.
"I don't know how she did it," said her mother, Jackie Schwartz, a teacher at St. John's School. "I always thought she was just a regular kid growing up. She couldn't find the dirty clothes hamper around here, just like the other kids."
A lot of talent
Outside the classroom, Schwartz took third place in high jump at the high school track meet her senior year, jumping 5 feet 4 inches. Strangely, she was able to set the MIT high jump record with a jump of 5-foot-2.
Schwartz, 22, also volunteered at a women's shelter in Boston during her time in school.
"She likes to help people," Lagace said. "She would tutor students and helped run a freshman class."
Though most of her classmates were from the East and West coasts, Schwartz said she felt Lawrence schools prepared her well for MIT.
Evolution's role
That didn't mean she avoided teasing about her home state's debates about whether to allow the teaching of evolution in public schools, though. Most of her classmates, all math and science majors, couldn't understand why the state would back away from teaching evolution.
Ironically, the evolution debate helped get Schwartz into MIT. Her entrance exam was about the debate's first incarnation, in 2000.
"The gist of it was kids deserve to be taught the best of what science has to offer," she said. "To shelter them or compromise that information isn't fair to the students."
What's ahead
As she heads off to Cambridge, Schwartz plans to get a master's degree in sustainable development. She might stay in the aeronautical field, working with noise levels from airplanes, pollution or wind energy. Or she might try something different.
"It's save-the-world engineering," she said. "It's engineering for the common good. It's dealing with pollution, global warming and sustainability issues."
And she doesn't care if it takes being a bit of a nerd to make a difference.
"I really want to change the world," she said. "It's going to be a big adventure."
Copyright 2018 The Lawrence Journal-World. All rights reserved. This material may not be published, broadcast, rewritten or redistributed. We strive to uphold our values for every story published.