Los Angeles — Southern California's offense was at its spectacular best. For once, the Trojans' defense kept up, too.
Poor Washington State never had a chance.
Matt Leinart passed for 364 yards and three touchdowns before coming out late in the third quarter, LenDale White rushed for 155 yards and two scores, and top-ranked USC took command early in beating the Cougars, 55-13, Saturday for its 30th straight victory.
"It was a proud day for us," USC coach Pete Carroll said. "We did it all today. Our offense was ridiculously effective."
USC essentially put the game away by taking a 28-6 lead in the first quarter as Leinart passed for 232 yards and three scores.
The Trojans, who entered as the country's leader in scoring (49 points per game) and total offense (581 yards), gained 269 yards in the opening quarter and had 459 by halftime along with 25 first downs.
USC (8-0 overall, 5-0 Pac-10) finished with 745 total yards - most ever allowed by a Washington State team - and 40 first downs.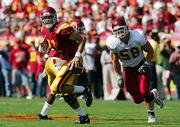 The Cougars (3-5, 0-5) came in averaging 518.6 yards and 39.1 points previously, but were held to 284 total yards and 13 first downs.
"You can't compare defense and offense, but they've got a powerhouse defense," WSU's Jason Hill said. "They've got powerhouses on both sides of the ball."
No. 5 Alabama 35, Utah St. 3
Tuscaloosa, Ala. - Brodie Croyle threw three touchdown passes, and DJ Hall set an Alabama (8-0) receiving record. Hall finished with 11 catches for 157 yards, becoming the first Alabama receiver to have back-to-back games with at least 10 receptions.
No. 6 Miami 34, UNC 16
Miami - Tyrone Moss rushed for career-highs of 195 yards and four touchdowns, including three scores after halftime to ensure Miami (6-1, 3-1 ACC) wouldn't be upset by North Carolina (3-4, 2-2) for the second straight year.
No. 7 LSU 56, North Texas 3
Baton Rouge, La. - Shyrone Carey ran for two scores, and fellow backup tailback Justin Vincent added a TD run as LSU rolled past North Texas in a game that had been postponed by Hurricane Katrina. The Tigers (6-1) won their fifth straight and their 13th consecutive nonconference game. The Mean Green (2-5) lost for the fifth time in six games.
No. 10 FSU 35, Maryland 27
Tallahassee, Fla. - Drew Weatherford and James Coleman scored fourth-quarter touchdowns to lift Florida State (7-1, 5-1 ACC). Maryland (4-4, 2-3) scored 24 straight points midway through the game, building a 24-14 lead.
No. 15 Wisconsin 41, Illinois 24
Champaign, Ill. - Brian Calhoun ran for 197 yards and five touchdowns for Wisconsin (8-1, 5-1), which still is in the mix for the Big Ten title. Illinois (2-6, 0-5) lost its sixth straight.
No. 19 Auburn 27, Miss. 3
Auburn, Ala. - Brandon Cox passed for 205 yards and a touchdown for the Tigers (6-2, 4-1 SEC). The Rebels (3-5, 1-4) managed just 209 yards.
No. 20 TCU 23, SDSU 20
San Diego - Cory Rodgers ran six yards for the go-ahead score early in the fourth quarter for TCU (8-1, 6-0).
No. 25 Michigan 33, No. 21 Northwestern 17
Evanston, Ill. - Leon Hall returned a fumble recovery 83 yards for a touchdown, and Michigan (6-3, 4-2 Big Ten) shut out Northwestern (5-3, 3-2) in the second half.
No. 22 Fresno 27, Hawaii 13
Honolulu - Wendell Mathis ran for 229 and three touchdowns, leading Fresno State (6-1, 4-0 WAC).
South Carolina 16, No. 23 Tennessee 15
Knoxville, Tenn. - Josh Brown kicked a 49-yard field goal with 2:45 left, and South Carolina (5-3, 3-3 SEC) held on to beat the Vols (3-4, 2-4).
Copyright 2018 The Associated Press. All rights reserved. This material may not be published, broadcast, rewritten or redistributed. We strive to uphold our values for every story published.