Montgomery, Ala. — Hundreds of people slowly filed past the body of civil rights icon Rosa Parks on Saturday, just miles from the downtown street where she made history by refusing to give up her seat on a city bus to a white man.
Most paying respects paused for a moment to quietly look at Parks' body in an open casket at St. Paul A.M.E. Church.
The strength that allowed Parks to defy Montgomery's segregation laws nearly 50 years ago was still showing in her face, said actress Cicely Tyson, who played Parks' mother in the 2002 TV movie "The Rosa Parks Story."
"You can see that strength in that chin," Tyson said. "It's the same strength that allowed her to just sit there on that bus. That same strength is in her face. Even in death, it is there."
The body of the 92-year-old Parks, who died Monday at her home in Detroit, was brought to Montgomery on a chartered jet flown by Lou Freeman, the first black man to become a chief pilot for a U.S. carrier, according to Southwest Airlines.
"It makes you want to tear up and cry when you think of what she did and what she accomplished," Freeman said. "She told us all to stand up for our rights."
After a brief ceremony at the airport, a hearse drove her casket through the streets of Montgomery. About a block and a half from the church, the casket was loaded into a horse-drawn carriage, which was followed by about 100 people holding hands in a slow procession.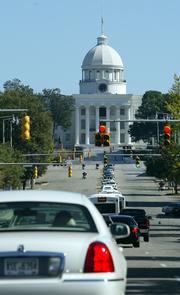 "Today we know this country has changed forever because this one great unselfish woman kept her seat to defend all her rights," NAACP President Bruce Gordon said.
The viewing was to continue until at least midnight, said the Rev. Joseph Rembert. Alabama Gov. Bob Riley and civil rights leaders Jesse Jackson and Al Sharpton were expected to attend a memorial service this morning.
Later today and Monday, Parks will lie in honor in the Capitol Rotunda in Washington, D.C., the first woman given that honor.
After Parks was arrested for refusing to give up her bus seat, she turned to the Rev. Martin Luther King for help. King led a 381-day boycott of the city's bus system that helped initiate the modern civil rights movement.
"If it wasn't for her, I wouldn't be able to go to the school I go to or do the things that I do now," said 13-year-old Boy Scout Micah Jones, who assisted with Parks' casket.
Montgomery Mayor Bobby Bright told the Boy Scouts to learn from Parks' life.
"She changed the world, and she never fired a shot," he said. "She never raised an arm in anger against anyone."
Copyright 2018 The Associated Press. All rights reserved. This material may not be published, broadcast, rewritten or redistributed. We strive to uphold our values for every story published.