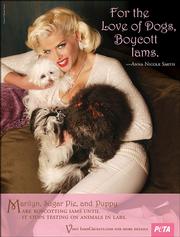 New York — Anna Nicole Smith's dogs are boycotting pet food maker Iams.
Smith's protesting pooches are refusing dog food from Iams in a new advertisement for PETA, People for the Ethical Treatment of Animals.
"Marilyn, Sugar Pie, and Puppy are boycotting Iams until it stops testing on animals in labs," the poster reads beneath a picture of Smith, a former Playboy model, and her three dogs.
PETA claims an undercover investigation in 2002 and 2003 revealed "deplorable" conditions in Iams' contract laboratory. The group alleged that at least 27 dogs were killed, and listed abuses including cramped conditions and having dogs' vocal cords removed to prevent barking.
Iams, which sells pet food and pet care products, disputes those allegations.
"We have constantly and publicly communicated with the public with what we do in our feeding studies," Kurt Iverson, a spokesman for Iams, told The Associated Press on Friday. "We also work with a number of well-respected officials from animal welfare groups, like the ASPCA and the Humane Society of the United States."
Copyright 2018 The Associated Press. All rights reserved. This material may not be published, broadcast, rewritten or redistributed. We strive to uphold our values for every story published.