Chicago — Black and white were the colors of rejoicing Thursday as Chicago White Sox fans reveled in their team's first World Series championship in 88 years.
A day after Chicago's sweep of the Houston Astros, Mayor Richard Daley announced plans for a large-scale celebration today, including a procession starting at U.S. Cellular Field, a ticker-tape parade in the Loop and a victory rally.
At Midway Airport, fans gathered hours before the White Sox arrived home from Texas. Houses sported celebratory signs and banners while bakeries decorated special cupcakes. Employees proudly wore Sox gear to work - including a woman who donned a White Sox T-shirt under her suit jacket.
At several sporting good stores, lines snaked around the block as fans waited to buy T-shirts, hats and jerseys.
Bud Skaja waited for more than four hours at a store just blocks from U.S. Cellular Field. Fearful of jinxing his ultimate hopes for the White Sox, he refused to buy any merchandise before Thursday - even as they plowed through postseason play with just one loss.
Skaja, who said he expected to spend about $300, listed all the heartbreaking seasons he had experienced since becoming a Sox fan about 30 years ago.
"Not this time. They're there to stay," he said. "But I couldn't believe they did it in four."
Several costume shops said while they've been doing a good business during the playoffs selling black and white face paint - the team's colors - they're now thinking they might see some last-minute requests for Sox outfits for Halloween.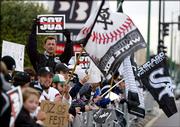 Courtland Hickey, general manager of Chicago Costume, said he had a woman ask for help in dressing up her 9-year-old daughter as Ozzie Guillen, the colorful team manager known for his salty language.
"I asked if her daughter knows how to swear like a sailor," Hickey said laughing, adding that he sold the woman a fake goatee and mustache combination.
Mayor Daley, another lifelong White Sox fan, on Thursday called the team's storybook season "a special moment for the city of Chicago." He said the victory was especially sweet because nobody expected this year's team to break the 88-year drought.
"It's a life lesson ... that you never, ever give up," Daley said while attending an event at a West Side school.
He said even the Chicago Cubs - who haven't won a World Series since 1908 - can learn that lesson from their crosstown rival.
"Everybody thought the White Sox couldn't go," he said. "Sure, the Cubs can go next year."
Copyright 2018 The Associated Press. All rights reserved. This material may not be published, broadcast, rewritten or redistributed. We strive to uphold our values for every story published.