The things they'll do to win.
Kansas University students did their artistic best Thursday in a chalk-drawing competition, vying for points in this year's Homecoming contest.
"It's intense," said freshman Jane Nettels, who participated in the chalk-drawing contest on Wescoe Beach. "It's hard core."
The games will continue today and culminate with Saturday's football game against Mizzou.
It's been a week of contests for fraternal and other student organizations on campus.
Pie eating. Food can art. Pumpkin tossing. A search for "Jayhawk Idol."
Sometimes competition, all in good fun, can get a bit stiff.
Sophomore Destiny Boutchee stood atop her chalk drawing Thursday as she waited for friends to arrive with more chalk. She asked some competitors to lend her some, but didn't get very far.
"Some people won't let you borrow a piece of chalk," Boutchee said. "I didn't realize it was that competitive."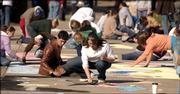 The chalk-drawing contest followed many late nights spent decorating floats. Those, too, are important.
Last year, one fraternity had pieces of its float stolen, Nettels said, so this year, some competitors have students guarding their creations.
The winners get recognition, prizes and their name on an award hung in the Kansas Union. But somehow that doesn't seem like enough.
"I want a big trophy," said Matt Wilson, a junior. "I want something that you need a cart to move away."
Kansas University homecoming events
Today Mizzou Car Bash - Now is the time to whack an old car painted black and gold, 10 a.m.-2 p.m., Stauffer-Flint Lawn. Crimson and Blue Day - Jayhawk stickers, pompoms and tattoos, crimson and blue beads, and other items will be on hand for any member of the KU community wearing KU's colors, 10 a.m.-2 p.m., Stauffer-Flint Lawn. KU soccer vs. Missouri, 3 p.m. Saturday Pancake Feed - Pancakes for $4 per person, 8-11 a.m., Stauffer-Flint Lawn. Homecoming Parade - Former University of Kansas standout running back and Kansas City Chiefs Hall of Famer Curtis McClinton will be the grand marshal. Floats, banners, decorated autos, and marching bands, 10 a.m., Jayhawk Boulevard. Game Day Tailgate - Food, souvenirs and Homecoming T-shirts available, two hours before kickoff, in the vicinity of Memorial Stadium. KU football vs. Missouri, noon. KU volleyball game vs. Texas, 7 p.m.
Copyright 2018 The Lawrence Journal-World. All rights reserved. This material may not be published, broadcast, rewritten or redistributed. We strive to uphold our values for every story published.